The Most Inspiring Computer of All Time?
Can anyone remember any personal computer not made by Apple that they found inspiring? Probably not since the early '80s. Sinclairs, Ataris, BBCs, Commodores and others from way back then were a bit special. But Apple, even back then, was still making computers that stood out from the crowd, computers that inspired awe.
According to OS X's dictionary, inspire means:
• fill (someone) with the urge or ability to do or feel something, esp. to do something creative
• create (a feeling, esp. a positive one) in a person
The first definition you've got to wonder if Apple wrote itself. Macs have always been intended to inspire creativity. And from strong anecdotal evidence, they certainly achieve that.
OS X's thesaurus lists synonyms for inspire as: stimulate, motivate, encourage, influence, rouse, move, stir, energize, galvanize, incite; animate, fire, excite, spark, inspirit, incentivize, affect.
Great words to describe both Macs and the various Mac operating systems over the years.
What computers (Macs or not) have inspired you over the last 30 years? The following list is my favorites, the ones that turned my head. Not surprisingly, they are all on my list because their design, design that I found inspirational. Most PCs designers prove that an ugly computer can do the job, but an inspiring design can make working with that computer more pleasant, and who knows, maybe even more productive in sublime ways.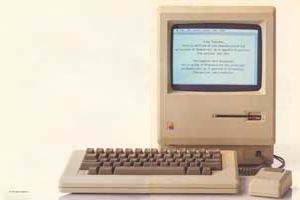 Image courtesy of GUIde Book Gallery
This computer inspired most people who looked upon it. Although not a lot of people bought them, most people desired one. The original Mac put the "personal" into "personal computer". Even today I still swoon over this machine. It still has "it". It represented so much then, and it still does now. It was small, friendly looking, portable and had an operating system that talked and smiled at you. In 1984, the Mac seemed straight out of the 21st Century. I wonder how many owners of the original Mac (and it's upgrades), just sat there and looked at it and said "Wow!" And felt inspired to do anything. (Although of course, they had time to sit and watch it while they swapped floppies.
)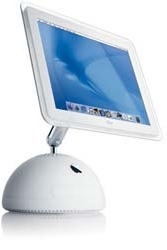 Image courtesy of EveryMac.com
Another traffic stopper from Apple. Besides the original Mac, this is the only other computer that truly inspired me. It's design was so far ahead of its time that no one has been able to duplicate it - not even Apple themselves. Apple, in design terms, climbed Everest with the iMac G4.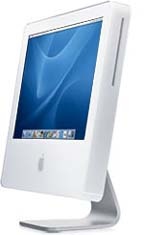 Image courtesy of EveryMac.com
How do you follow the iMac G4? Not even Apple could top it. Instead Apple chose simplicity and sleekness but still produced a head turner. As a owner of the Intel equipped iMac, I can certainly say, it still catches my eye when I walk past it, and I still go "Wow!". It's a pleasure to sit in front of and certainly does inspire creativity.

Image courtesy of EveryMac.com
I add this retrospectively. Until only a few years ago I wasn't aware of it's existence. It certainly didn't get a lot of fanfare in this part of the world. But looking at it, it is some sorta machine. Of course, with some sorta price tag. Maybe that's what killed the fanfare.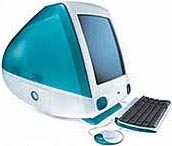 Image courtesy of EveryMac.com
Wow! Computers didn't have to be beige! And they didn't have to look like giant bricks; they could have character. The original iMac is the direct descendant, philosophically, of the original Mac. Once again, a computer could be small, friendly looking and portable.
Now, this list won't be to everyone's taste. You can say my whole list is utter bollocks. Inspiration is a personal thing. But Apple seem to know how to tap into it.
You might be inspired by the Cube, the PowerMac, the XServe, the first PowerBook, the Apple ][ and so on. Maybe you see Apple's Everest as the PowerBook 100. Maybe the Sinclair ZX80 in its tiny form factor in 1980 is the most inspiring computer you've seen. Or maybe it was the first mainframe you saw (that took up a whole floor of a building). Or maybe you've seen the super Mac cluster at Virginia Tech. Or maybe simply the abacus.
Let us know what you think is the most inspiring computer of all time.