iSquint Your iPod Video
Since Apple introduced iPod with video last year, novice users up and down the technology world have struggled to understand how to convert their own videos to a format of which iPod could understand.
According to Apple, the iPod supports H.264 encoding in .m4v, .mp4 and .mov. Unfortunately it's not a huge list for compatibility, but that's not a problem as it is possible to convert certain video types into another type so that your iPod can successfully play it. But what if you don't know about all these video types and what your iPod can and can't play? Some would say to go read up on it and take it from there, but the task can sometimes be so tedious that people quickly give up on the idea.
Fortunately iSquint is here to save the day. It's not packed with features but it does pack a punch when trying to get those .wmv and .avi video's to play on your iPod—and best of all, it's free.
So what can be done?
iSquint offers a very simple interface which will come as a sigh of relief to many who thought this process would require hoards of options and lots of customizing.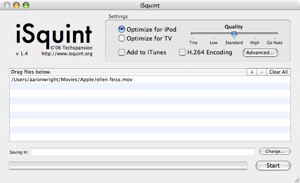 iSquint is broken into three sections. The top section is the only 'options' involved in this, allowing you to choose whether you wish to convert videos into iPod format or a format suitable for TV. Once you've decided on that choice, you can then set the quality of the video—obviously the higher the quality, the bigger the file size. At this point you can also select whether or not you'd like to encode in H.264 and add to iTunes after conversion. There are some advanced options as well which allow you to crop the video image, set the height and width of playback as well as tampering with bitrate, framerate and audio options. All of these are a little overkill in my mind for something such as the iPod, but that fact that it's there does give it a little bit more of a kick.
The other two sections is the file list in the middle, where you can set up a list of files you wish to convert, and the progress area at the bottom.
How do I convert?
Conversion is simple. Drag a file you wish to convert into the files list area, or simply hit the + button to add content from directly within iSquint. When you've sorted out the options above this section, hit 'Change' at the bottom to change the directory the converted file will be stored. If you simple ignore this, the converted file will be placed in the same directory as the original file.
Now before you hit start, I'm sure you're wondering what will happen to your original files, right? Well luckily, they aren't touched, so there's no real need to back anything up.
What should I expect?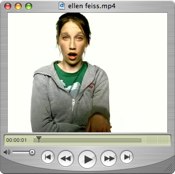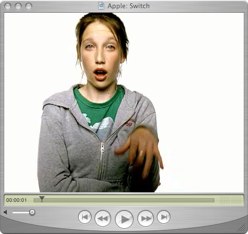 Although not the best comparison in the world, I have given you some idea from the screenshots above as to what it does, at least when converting the file so it is optimized for iPod. The overall sound and video quality isn't reduced (namely because I left the settings on 'Standard'), but the video resolution is now down to something viewable by iPod.
Time Testing
Of course, this review wouldn't be complete without a little testing, and I was curious to find out how long files would take to convert when the quality was lowered and raised, especially when turning on H.264 encoding.
Testing on an iMac G5 2Ghz PPC processor with 1GB of DDR SDRAM. File types .MOV. Optimizing for iPod only.
5MB without H.264 encoding
Quality:
Tiny = 18 seconds
Low = 25 seconds
Standard = 25 seconds
High = 26 seconds
Go Nuts = 30 seconds
50MB without H.264 encoding
Quality:
Tiny = 1.3 minutes
Low = 1.44 minutes
Standard = 1.49 minutes
High = 1.50 minutes
Go Nuts = 1.55 minutes
5MB with H.264 encoding
Quality:
Tiny = 20 seconds
Low = 35 seconds
Standard = 36 seconds
High = 36 seconds
Go Nuts = 40 seconds
50MB with H.264 encoding
Quality:
Tiny = 1.29 minutes
Low = 3.21 minutes
Standard = 3.32 minutes
High = 3.38 minutes
Go Nuts = 3.48 minutes
The above results will no doubt vary depending on system specs, applications running and different file types used, but it does give you a rough idea of how long conversion takes. I did notice that you can't choose which file type to convert to, as it simply uses .mp4 by default.
The overall file size after conversion was smaller than the original source files. 50MB's with H.264 encoding optimized for iPod shrunk to 23.1MB, but without H.264 encoding the file size became 36.3MB and in less time, something that certainly confused me a little.
Conclusion
ISquint isn't packed with many features, but then for what it was designed for, extra features would definitely be over-kill. It converted and placed files in iTunes successfully, ready for upload onto an iPod with video and didn't ask any questions in the process. The program is very simple to use, so much so that there is no help available (although when trying to get help, I got some lyrics to a song - feel free to leave a comment as to which song this is).
The developers, Techspansion, also have a program callled VisualHub, which is similar to iSquint but packed with more features - however, costing $23.32 to iSquint's zero price tag.
iSquint is 4.6MB in size and requires Mac OS X 10.3.9 or later to run. The latest version is 1.4.3 and can be downloaded via http://www.isquint.org/.