Give Safari a Hand
For as long as us folks use the internet there will always to be a 'war' between web browsers. Opera, Firefox and Camino are all fighting it out to take over the number one spot from Safari on a Mac. Now let's face it, Safari might be the most convenient browser available, most likely down to it being preinstalled on our systems, but it's certainly one of the most lacking. To help it along today, I'm going to try and promote a few plugins to complement my previous articles from the past two weeks, iTunes Additions and Give Mail Some Leopard Features Now.
First up? The popular SafariStand, the little plugin that helps Safari pack an almighty punch.
SafariStand
Many of you will have heard of SafariStand, It's a brilliant little plugin that allows you to do a whole host of useful things with Safari. A few of the features that make this application really stand out are:
StandSearch – Allowing you to search through your history and bookmarks with great ease in a separate window
StandBar – Once again in a separate window, allowing you to browse through your bookmarks, history and RSS feeds, all the while still showing the current page you're viewing
AddBookmarks – Not something to shout about, but again, opens in a new window allowing you to add, remove and edit bookmarks
Change Scale of Images – If you've got an image open in another window or in a frame, then by hitting + and – on the keyboard allows you to zoom in and out of that image
And my personal favourites?
The SideBar. The sidebar is a brilliant feature that may or may not go down well with a few folk – one of those 'you either love it or hate it' things. The sidebar appears by default on the left hand side. It features thumbnail previews of each webpage you have open and works in exactly the same way as Safari's default tabbed browsing. Very handy if you wanted a reminder of what's on show in hidden tabs.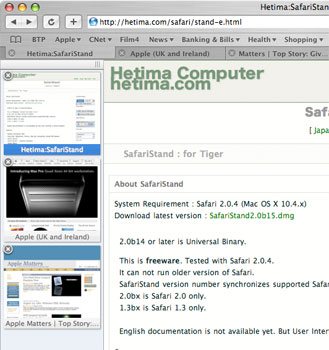 Arrange Tabs – Something that I've been crying out for in Safari for a long time now. If you have various pages open, for example a few sports pages, a couple of shopping sites and your beloved Applematters site, then you might want to arrange them so that all the sports pages are together, all the shopping sites are grouped and of course, Applematters set as the first tab. Well now that can be done and is made all the more easier with…
…Tab Switching. Ever wanted to use a quick hotkey combination to switch between tabs in Safari rather than using your mouse? I know it sounds lazy but I have too, so you can imagine how happy I am with SafariStand. You have to enable this feature within the Preference pane, but by simply hitting ',' and '.' when not highlighting a web form you're able to skip through tabs with great ease.
An excellent multi-purpose addition to Safari that should now allow it to play catch up with other browsers. Of course, if you want something a little different, you could try Saft, which has a few extra features that the Mac addict might enjoy.
Version: Reviewed version 2.0b14
Requirements: Reviewed version requires Safari 2.0.4 only. Other versions available on website for previous version of Safari
Universal Binary: Versions 2.0b14 + are Universal
Size: 800K
Installation/Removal ease: Installation instructions included. Fairly easy
Cost: Free
Download: http://hetima.com/safari/stand-e.html
Taboo
Have you ever had several tabs open, sometimes of great importance, only to accidentally hit the command+Q (quit) button instead of command+W (close window) and lose every single window you had open? I have and it's something that's made a vein or two pop!
Unfortunately for us Safari users, Apple isn't the perfect company many fan-boys will have you believe because yes, humans run Apple after all. Why Apple didn't think of a warning window to appear when you are attempting to close Safari with more than one tab open, I'll never know. Firefox users have been blessed with this feature, so why shouldn't Safari users get a piece of the action?
Rumours suggest that the next version of Safari will include this feature in Leopard, but that's a long time to wait and if you're anything like me, you'll want that feature now. Well now you can.
It's all very simple. Download the plugin, run the installation wizard and then continue to use Safari as normal, but this time without the headache of knowing you could accidentally close a few tabs with a slip of the finger.
Version: Version 0.3
Universal Binary: Contains latest version of SIMBL which is Universal
Size: 76K
Installation/Removal ease: Installation wizard. Very easy
Cost: Free
Download: http://www.ocdev.com/
Forget Me Not
To complement Taboo, there's Forget Me Not. Forget Me Not is another SIMBL plugin that preserves your websites at the time of quitting Safari. Have you ever had to install an update that forced you to restart Safari at the most inconvenient time? Well, don't fight the force, just close Safari but make sure you've installed Forget Me Not first.
Once Forget Me Not is installed you can safely quit Safari with as many websites as you like open. Once you've restarted, those websites will pop back up and let you carry on from where you left off.
One thing I should point out though is that this only works when you've quit Safari. If you have websites open and simply hit the red button (top left of Safari window) this will close all the windows and hide Safari until you next select it – you won't get those websites back unless you select them manually.
Version: Version 2.0
Universal Binary: Contains latest version of SIMBL which is Universal
Size: 276K
Installation/Removal ease: Installation wizard. Very easy
Cost: Free
Download: http://www.math.uchicago.edu/~fowler/Software.html
As far as plugins go for the average-joe users, these are my favorites. There are a hoard more available which range from development to interface lifts, but the ones above should serve some real purpose to many users out there.
Have you got your own favourites to add? Feel free to let us know with a comment below.