Give Mail Some Leopard Features Now
For those of you who caught my article last week, you'll know I went over three of my personal favourite iTunes additions. These included a couple of plugins and a fancy script to gather artwork for your songs.
Mail 2.0, Tiger's built in e-mail client, has its drawbacks compared to other e-mail clients, but its simplicity is the one thing that has attracted so many users. Leopard promises some minor improvements to Mail but so far none that really stand out, although I am pretty excited about the thought of templates – I like to show off. However, if you can't wait until Leopard for those extra fancy features, then why not check out my compilation below and see if any of them tickle your fancy?
Mail.Appetizer
The idea is simple. You receive an e-mail and a customizable notification is displayed on your desktop for a short period. The notification previews the e-mail, showing you who sent it, which e-mail account it was sent to and, if the sender has activated it, a display picture. Rolling your cursor over the display will show you four buttons at the bottom allowing you to Close the window, Delete message, Open message in Mail and set e-mail as 'read'. A very handy way to read your e-mails without opening up Mail.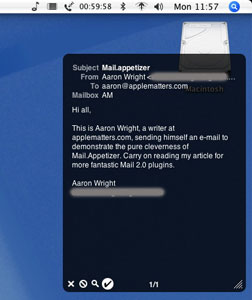 Most users should be quite pleased with the customization options involved, especially as you can set how long you wish the notification to be displayed for and at what transparency level.
Version reviewed: 1.2 Beta 4
Universal Binary: Yes
Size: 294K
Installation/Removal ease: Very easy
Cost: Free
Download: BronsonBeta
DockStar
If you've got more than one e-mail account in Apple Mail, then DockStar might be a suitable plugin for you.
DockStar is an easily customizable notification system that informs you which mailboxes have received e-mails in their Inbox. For example, I have two e-mail accounts, one is Gmail and the other is Apple Matters mail. If I'm busy working away at my computer and I receive an e-mail, I'd first like to know which account it has been sent to, as I generally regard my Gmail account to be of more importance. By setting Gmail to the red indicator and Apple Matters to the purple indicator, I can see which mailboxes have received e-mail.

You can set-up up to five indicators, or 'badges', in the Preference pane in Mail 2.0. These can include Junk Mail, Drafts, Sent Mail, as well as any Smart Mailboxes you have set up, and of course, your Inbox received mail. If you want to show off further, you can change the shape and colour of each 'badge', something to quietly impress yourself or your friends.
Version: 1.1
Universal Binary: Yes
Size: 506K
Installation/Removal ease: Very easy
Cost: Free 7-day trial, $8 thereafter.
Download: eCamm.com
Attachment Scanner Plugin
This one was featured on www.tuaw.com earlier this week, but it's something I've been using for about a month now, and it's a complete godsend.
Have you ever written an e-mail to someone and mentioned an attachment you're sending with it, only to send the e-mail and realize you forgot to include the attachment?
I've done it plenty of times before and it's especially embarrassing when it's a job application form.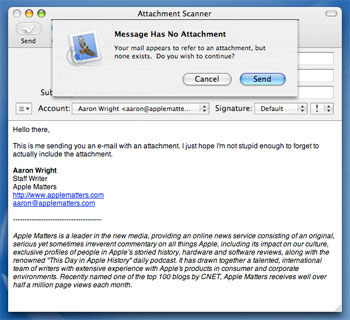 However, with this plugin you'll no longer feel that embarrassment. If you've mentioned the words "attachment(s)", "attach", "attaching" or anything similar, then the Attachment Scanner Plugin will pop up a notification and ask if you were meant to send an attachment with the e-mail. It's very handy and has saved my dignity on a number of occasions. Of course, if you haven't mentioned any of the above words, then Attachment Scanner won't bother you with a notification.
Unfortunately, it's not the easiest of plugins to install if you're a computer novice, but the developer has been kind enough to include five simple steps to get the plugin working.
Version: Released 9th July 2006
Universal Binary: Yes
Size: 324K
Installation/Removal ease: Fairly easy – installation instructions on webpage
Cost: Free
Download: J. Eagan
MailTags
Until Leopard comes out, adding notes and to-do's in Mail is going to be impossible without the use of a plugin. MailTags is one of those plugins.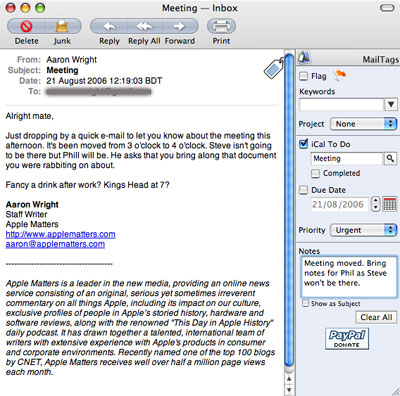 Whenever you receive an e-mail, you can add notes and to-do's to iCal via MailTag within Mail. Every time you open that e-mail, the notes and to-do's will be attached to them for future reference. A great way to quickly jot down something someone has mentioned in an e-mail.
There's a few more fancy features included, such as:
Building smart mailboxes for metadata
Search for keywords and projects
Use and set metadata in Mail's rules
Link mail messages with iCal to do items
Version: 1.2
Universal Binary: Yes
Size: 3.0MB
Installation/Removal ease: Very easy
Cost: Free
Download: Indev.ca