Obsessing Over iTunes: Super Smart Playlists
Welcome to the first part of my series for people who obsess about every aspect of their iTunes collection -- from metadata to playlists to cover art and more.
Most people have playlists -- even smart playlists -- that are fairly dull. These playlists are based on criteria that you felt particularly clever about (Genre: Punk, Year less than 1980, am I not cool?). In this article, I will cover really smart playlists that will make sure you always listen to the music you should be listening to.
So what is the music you should be listening to? How would iTunes know that?
Metadata
One of my favorite words in the world is "meta." Add it to anything and it suggests you have just one additional layer of depth. In iTunes, you really want every song to have complete and consistent metadata.
Complete: This means each song should have at least a song name, artist, album, genre, and preferably year. Use MusicBrainz, it's your best friend in the fight against spurious metadata. I will write about MusicBrainz in a future article, but check it out for yourself.
Consistent: This means that you can't tag some songs as "Alternative & Punk," some as "Alternative," some as "Punk," and still others as "Punk Rock." Choose your convention and stick with it. You also can't have "R.E.M." and "REM," because computers don't know they are the same band. Smart playlists are cruel servants.
To help yourself out, create smart playlists of songs that don't have metadata that you haven't heard recently. For example, create a small playlist that automatically gets songs that don't have a Genre and haven't been heard in 30 days. This brings you fresh music and gives you the opportunity to fill in the blanks.
Ratings Everything
Rate every song you have. I know the 5-star scale is tough (do I really like "Here Comes the Sun" as much as "Karma Police"), but deal with it. The more you rate, the better your smart playlists can be in the future.
Again, to help yourself rate everything, create a smart playlist of all the songs that are unrated and have not been heard recently. This will bring you fresh songs and you can rate them as you listen (which will unfortunately make them disappear from the smart playlist -- a little too smart).
What Should You Be Listening To?
Now you have given iTunes all the information it needs to determine what you should be listening to.
Ideally, you should be reducing the average time since each song has been heard. This is not enough, though. If you have a lot of 2-star and 3-star songs, you shouldn't be listening to them as often as a 5-star song. So you should be listening to 5-star songs more often than 4-star (more often than 3-star, and so on).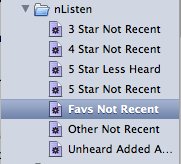 Those are my lists, all contained within one master folder called nListen that I play on "Shuffle" all day, every day, forever. Hey, there is a reason it's called "Obssessing Over iTunes."
3 Star Not Recent: All the songs that are rated 3-stars and not heard in the last V days.
4 Star Not Recent: Songs rated 4-stars and not heard in W days.
5 Star Less Heard: Songs rated 5-stars and heard less than 4 times. This makes sure I listen to newer (or less heard) 5-star songs more often.
5 Star Not Recent: Songs rated 5-stars and not heard in X days.
Favs Not Recent: "Favorites" is a not-so-smart playlist of songs that I really want to listen to right now. The "Favs Not Recent" smart playlist pulls in all the songs in my "Favorites" playlist that have not been heard in the last few weeks.
Other Not Recent: Songs rated under 3-stars and not heard in Y days.
Unheard Added Ages: Songs that have not been heard even once and added more than Z days ago.
Now, you can tweak the values of V, W, X, Y and Z, but V > W > X > Y. Basically, you want to choose the values so that you have more 4- and 5-star songs than the rest. You can make up Z. Now, just select the nListen folder, set it to shuffle and listen. And you never have to think about what you want to listen to. iTunes knows.
Notes:
> means greater-than


Credit for the ideas behind these playlists go to a good friend of mine (you know who you are).


Yes, I know only insane people spend this much time on their iTunes collection. And I still haven't told you about this Perl script I have that calculates the average time since each song was last heard...


Nor have I told you about all these other nifty AppleScripts that will take your tags and...maybe next time.