Messenger for Mac 6 Reviewed
The first thing Microsoft's people should really be asking themselves before they release software is "have we done enough to make this stand out?" For a company that prides itself on offering 'first class' software you'd think that its employees would put their hearts and souls into what they develop. However it seems that they're only putting in their rear ends with Messenger 6.
A couple of weeks ago I wrote about the upcoming release of Messenger for Mac 6 and how it was on target whilst also promising to offer some new features. Although a report suggested not a lot was to be changed I honestly thought Microsoft would deliver this time round. Okay, so no audio and video conferencing, I was prepared for this, but some of the other features seemed as though they could lead onto something bigger. Oh how I was wrong.
Windows Live
The first and only exciting and productive feature offered is Windows Live communications–-we can finally catch up with the rest of the Windows world whilst talking to our friends on Yahoo via the same software. I've tried and tested this feature and it works well, although your account needs to first be set up for Windows Live (why this isn't done automatically by MSN I don't know). For Mac users using Yahoo as your first point of call for communications, you'll need Yahoo! Messenger 3 Beta (read review).
Custom Personal Messages & iTunes integration
Next up on the let's-give-Mac-users-a-tiny-bit-extra-just-so-they-don't-feel-left-out feature is the custom personal message that you can have after your username. A pointless feature to many but it's always nice to be able to leave funny jokes or, when used in a serious environment, notes of what you're up to so others can see you're not a complete bum in the office. On top of that though, Microsoft's Mac department have also been kind enough to let us show others what we're listening to in iTunes, a feature I still haven't worked out the point of yet.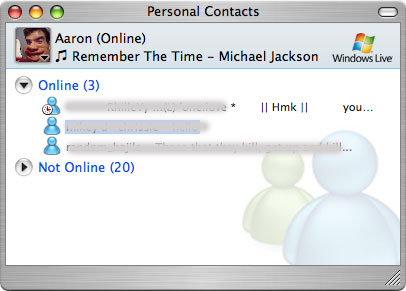 Emoticons
For those that just love emoticons, Messenger 6 now lets us add our own whilst also letting us select which emoticons you'd like to have present in your favourites list. I've not created my own emoticon on this version of Messenger before, but in previous version on Windows it's simply been a case of importing a sensible sized .gif or .jpg and then assigning a shortcut to it.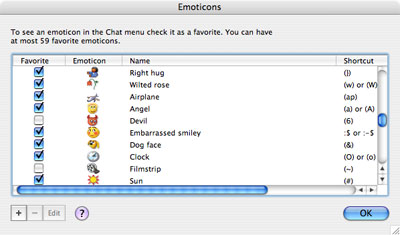 Spotlight integration
A new feature I'm quite pleased to finally see in Messenger is Spotlight integration. I'm a heavy user of Spotlight, virtually using it in place of Finder, so having this to search for past conversations is a must. Simply type in part of the username or e-mail address of the contact you wish to search and Spotlight will dig up all conversations, in order of date, and present them to you in a way only Spotlight can.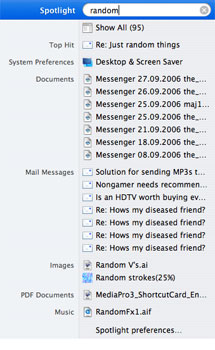 Spellchecker
For those of you expecting a much longer review, unfortunately there's only so much to talk about and the spell checker is the last in this long (note the sarcasm) line of updates to Messenger 6. Along with Spotlight integration and Windows Live communications, the spellchecker is the last of the 'good' updates, something that benefits us all. Now for those of you out there that are constantly making spelling errors whilst talking to mates, you can finally get the last laugh. As with other instant messaging applications out there, there's now a built in spellchecker similar to Microsoft Word. A little squiggle appears, right click, select the correct word and then carry on typing as you were. We're spoilt, don't you think?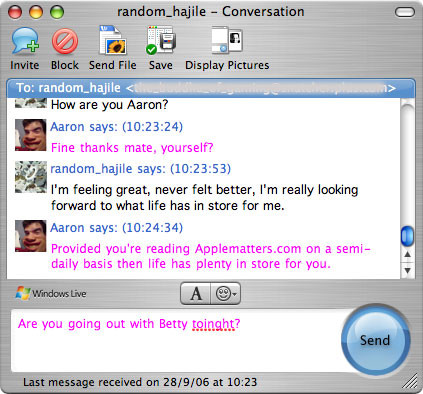 Summary
In all seriousness though there are a couple of perks with this latest update. For Intel Mac users you'll be pleased to know that it's finally Universal which seems to speed things up dramatically on both PowerPC and Intel machines. In Messenger 5 if more than about 4 lines of text was input into the text field you'd notice a serious slow-down, often finding it to be quite sluggish.
A note on audio and video conferencing; as mentioned in my previous article regarding Messenger for Mac 6, that isn't due to be released until version 7 which should be available for release in the last quarter of 2007. This is apparently down to Microsoft, basically, have a very messy system and taking over a year and a half of development just to implement audio and video conferencing. Still, until then we do have Skype.
All in all, some long needed new features but none that will draw you away from AdiumX or other instant messaging applications out there. Finally Universal which seems to have given it a speed boost on both Intel and PowerPC platforms.
Overall rating: 4/10
Download