The New Yahoo! Messenger
It seems to me that companies such as MSN and Yahoo never really gave a damn about us Mac owners, offering us second-rate software that would only be acceptable back in the days of OS 8 and Windows ME. Yahoo! Messenger 2.5 only seemed to be a more popular choice for some time because of the web-cam function that it offers, something which we're still all waiting for MSN to introduce to its service.
If any of you use Yahoo! Messenger 2.5, you'll know how ugly and awkward it really is. The interface is nasty, the features are rather lacking and useless and the overall feel of the application is clunky and unsteady—I've often found it crashing when conferencing with people using webcam.
Many of you will have heard Yahoo! finally introducing the long needed update to its aging messenger program and, although still only in Beta, it is available to the public.
The Look
First and foremost, the facelift. Yahoo! finally seem to have caught up with OS X and introduced a brushed metal-style effect which now fits in with the look of Tiger. The edges of the windows no longer look jaded and badly sketched like it's predecessor and even sticks with the minimalist look that Mac owners should now be used to. There are no more annoying window buttons at the bottom of the application, as seen on the current version of Yahoo! Messenger. Instead, they've moved the four buttons at the top (New Message, Add Contact, Webcam, Mail) to the bottom, also making it much clearer as to what each button is for without the need of words. On first opening Yahoo! Messenger 3.0, you'll notice how much it looks like iChat with the sky blue/light blue alternating contact list style.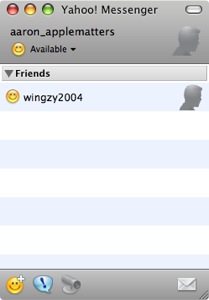 New Yahoo! Messenger 3.0 Buddy List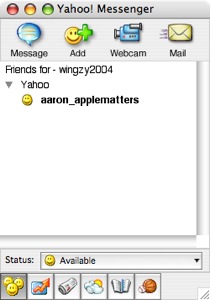 The old Yahoo! Messenger 2.5 Buddy List
Chatting
You'll be pleased to hear that by default, that incredibly annoying 'ring' when a new message has arrived has finally been removed, and hopefully destroyed with some sort of nuclear device. Instead, we're presented with some rather soothing and not-at-all-intrusive ambient sounds when we both send and receive a message.
Once again the look of the chat area is much the same as the main window in that it sticks to OS X's metal look. Each conversational line is broken up into boxes to make reading much easier on the eyes, it also helps that they've used a variation of colors too. User icons are rather in your face but are a nice addition when compared to the current Yahoo! Messenger 2.5. Again, minimalist is the way to go and the text formatting buttons have finally been removed - instead, these are customizable in the preferences, which I'll get onto in a moment.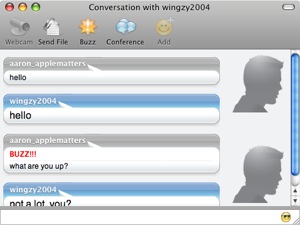 New Yahoo! Messenger 3.0 Chat Window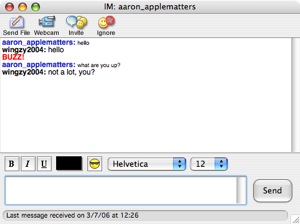 Old Yahoo! Messenger 2.5 Chat Window
A couple of other things that have changed is in the introduction of two new buttons. Buzz and Add Contact are now both present at the top of the chat window, next to Webcam, Send File and Conference (which has replaced 'Invite'). Again, all these buttons are much cleaner and easier to understand, something which is a huge relief, especially to those with poor eye-sight.
Sending a file, starting a webcam conversation and adding someone are now much more straight forward. In the current version of Yahoo! Messenger 2.5, you hit these buttons hoping to see the actions take place, but instead, you're asking if the user you want to send a file to is, in fact, the user you're talking to. It seemed a little silly to ask the user if what they're doing is correct, almost like we're too stupid to work out what the buttons are for. The new version of Yahoo! Messenger, however, bypasses these feature and takes you straight to what you want to do. So, when I try and send a file, rather than asking me which user to send it to, it assumes I meant the user I'm currently chatting to and asks me to locate a file to send. Perfect!
Preferences
Remember Yahoo! Messenger 2.5's incredibly confusing and OTT preferences, found in both Windows and Mac? Well thankfully Yahoo! have decided to package this up with the 'new-message-ring' noises and thrown them both straight in the bin. There is a god after all.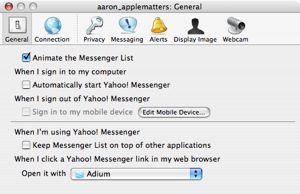 New Yahoo! Messenger 3.0 Preference Pane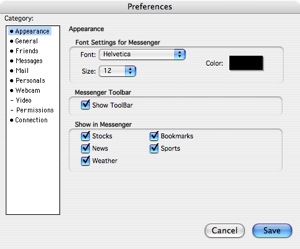 Old Yahoo! Messenger 2.5 Preference Pane
A lot of the options from before are still there but are now under different tabs, making it much easier to see what we're doing and to know where a certain option lies. Apart from the aesthetics, not a lot else has changed except from the Display Image tab which is new to this version of Yahoo! Messenger. Users can either browse for an image on their computer and use that as an Avatar, take a picture from within the Preferences themselves via webcam, or create an Avatar via Yahoo!'s website. For the sake of all that's fun and glorious on this U.S Independence Day week, I've decided to create my own Avatar, mainly for a bit of fun on my part, but also to show you what's on offer. Check it out. Alright, not quite like me, but close enough.
Summary
It's refreshing to see Yahoo! Messenger finally being introduced to the 21st century, something which I know many had been waiting for, for some time. The overall service hasn't changed much, the main reason I haven't gone into it - so if you've used Yahoo! Messaging service before, you'll already know what to expect. The software itself is less frustrating to use and much faster than the current Yahoo Messenger and, although no major new features have been introduced, the whole look and feel is much more appetizing.
One thing I've struggled to mention, is that according the home page of Yahoo! Messenger, a future release will see compatibility with those using Windows Live Messenger, software Mac owners will probably never see. What does this mean? Well, instead of using Microsoft Messenger for Mac, we can use Yahoo! Messenger to do both MSN and Yahoo chat protocols. One thing remains to be seen though, will we be able to webcam chat with those using Windows Live Messenger?
Of course, I should reiterate that Yahoo! Messenger 3.0 is currently just a Public Beta, and this means that although the software is reasonably safe to use, it's not on final release yet, so there will be some bugs popping up somewhere. However, in the few days I've been using it, it's not crashed or failed on me once and has been nothing but reliable when compared to the old Yahoo! Messenger 2.5.
See for yourself though and give it a go. You can download from http://messenger.yahoo.com/ and it's only 6.2 MB's.