MacXeagle Has a Few Apps Worth Looking At
Lately, several sites have plugged SerialSticker from MacXeagle, and it is a nice piece of software too. However, MacXeagle produces a few other apps that deserve a mention as well.
MacXEagle is developer Louka Desroziers. He has four applications in production at the moment, and all are quite useful. He is certainly a developer that understands the need for those little utilities that we didn't realize we couldn't live without. However, in all cases there are other more developed alternatives, so Louka has a a bit of work ahead to make these apps more competitive. Louka does seem to follow the Apple mantra of releasing a limited product and then building upon it. On the flip side, at present these apps are free. And thus, they are a good value.
SerialSticker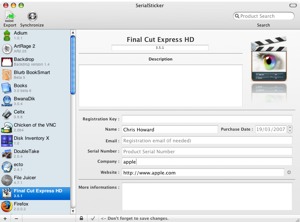 SerialSticker is a software register. It stores an application's version number, description, registration key, owner, purchase date, email, serial number, company, website, and miscellaneous information.
Cleverly, some of this information is read from the application itself when you add it, thus saving you a bit of typing.
I like to store all my info in one place, so I'd like this app expanded to include hardware and personal information, such as passwords. Of course, it would then need to be password protected itself, which it isn't at the moment.
It would be also nice if you could tell it to scan a folder and list all the applications within that folder. From that list, you could check the ones you wanted to add to SerialSticker.
A nice little app with great potential…7/10.
uApp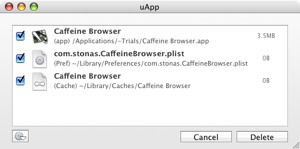 uApp is an uninstaller. It is limited by comparison to its competitors; however, it does what it's meant to do. It works by dragging and dropping an application onto it. It then shows the files for that application and allows you to unselect those you don't want to delete. Applications are deleted rather than trashed, so there's no room for error. It'd be nice if uApp deleted to trash first because we all make mistakes occasionally.
In uApp's preferences, you can tell it which applications you don't want it to delete.
Another feature I'd like to see added is the ability to delete multiple applications at once, as currently you have to delete applications one by one. I test lots of apps, so I often do a clean up of several apps at a time.
Also, if you drop a folder on it, it is less reliable, sometimes only discovering the applications in that folder and not all their related files such as preferences. It also doesn't differentiate between similarly named apps, although neither did AppZapper. (Hello developers of the Tangerine apps—one of you guys needs to change names.)
A reasonable alternative for application uninstalling and one I've been using. 7/10
Dockainer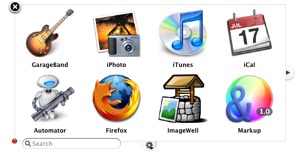 Dockainer is a simple application launcher. A discreet icon sits in the corner of your screen, and you click to activate it. A palette slides onto the screen, to which you can add your favorite applications, or of course, select them to launch them. The Dockainer palette only shows eight applications at a time; however, you can search for applications in its palettes or browse for them.
Dockainer needs sorting, deleting, quicker mouse access to apps not on the first page, control over its opacity, resizable icons, and control over its on-screen position.
Although still quite limited, for some people Dockainer could already be all they need. 6/10
WriteInOne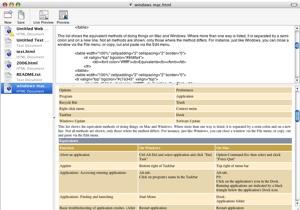 WriteInOne is a text editor with a couple of differences. Firstly, files created or opened with it are listed in a left hand window pane, and the editing happens in the right hand window. This a system that DEVONthink uses and one I've always liked, as finding and opening files is so much easier.
The second feature is that WriteInOne contains a html editor/viewer. Sure it's not up to real HTML editors, but there are times when you don't need something over the top.
WriteInOne can save to RTF, RTFD, plain text, MS Word, XML, XML Property List, HTML, and PHP.
A drawback, though, is it will only open file types it knows. So, for instance, WriteInOne says it can't open text files with no extension. Also, I found the refresh button of the HTML preview unreliable and had to open and close preview to properly refresh the preview.
One good thing about WriteInOne is that the documents are saved on your disk whereever you like, rather than keeping them buried in its own obscure file system.
WriteInOne—given I don't need anything fancy for text editing—I can see getting a bit of use. 7/10
Overall
Yes these apps all need some development, but on the other hand, they are all usable and useful now. So, check them out, they might be all you need. And definitely keep an eye on their development.