Macworld 2007 - Summary and iPhone Announcement
It's that time of year again when the Mac community acts like excited school children on caffeine, awaiting Steve Jobs and co. to appear on stage and let us know what they've been getting up to for the past year. Sure, we get the odd keynote throughout the year, but none compare to the keynote at Macworld! Time to put those crystal balls away and read up on whether or not those rumours came true.
Things really started to sink in around 35 minutes before the start of the show as the online Apple store was once again shut down in a routine update that takes place before every keynote. So, what does that mean? New Apple gear my humble folk!
If you've read this far without jumping ahead to see what was announced, you'll be pleased to know that Apple's popularity is through the roof, as Macworld 2007 had without a doubt the largest audience in attendance compared to past years, so much so that the keynote started later than scheduled due to the large queues waiting outside – Hadley Stern and Chris Seibold of Apple Matters now doubt giving us their account of the atmosphere at a later date.
Facts and figures
Jobs enjoys getting the some-what boring yet sometimes interesting facts and figures out of the way before making any announcements. I'm not sure how but sales figures and iPod market share always seem so much more exciting when they come out of Steve's mouth – it's a gift, I'm sure.
The show finally got under way, 15 minutes later than expected, with Steve Jobs informing the open-eared crowd that Apple were today going to make history. After a quickie on how successful the Intel switch was, how "awesome" the new iPod line up is and a jibe at Vista to get even Microsoft laughing, the facts started to roll in:

1) Over 2.0 billion songs sold on iTunes worldwide
2) 5 Million songs downloaded each day, equating to 58 songs every second
3) Because of this fact, iTunes is the fourth largest seller of music, selling more than Amazon
4) 50 million T.V shows have been sold through iTunes
5) The first months of opening, over 1.3 million shows sold
6) Paramount being the latest to offer shows through iTunes
7) Zune market share in November at 2% with iPod holding 62%
Products
AppleTV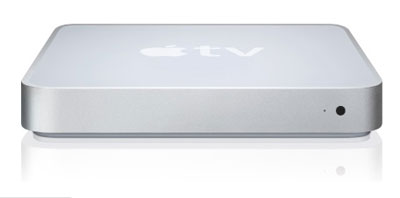 After the facts Steve began by introducing AppleTV, formally known as iTV. We pretty much saw this one coming and anyone who follows Apple updates closely will already understand how it works. You will be able to buy movies, music, and T.V shows, download them onto your Mac or onto an iPod, and stream them to your television using AppleTV. As always with Apple, the setup is ridiculously simple.
AppleTV allows users to stream content wirelessly, via Wi-Fi, from up to 5 machines, allowing auto-sync with one of those machines. It features:
HDMI Connector/Component cable
Up to 720p High Definition video
40GB drive to store streaming content, allowing recent movies to be stored
G, B and N Wi-Fi networking standards
Simple Apple remote
A demonstration was then shown on stage by Jobs and Schiller how content can be streamed from a guest computer – a simple authentication number is all that is required.
AppleTV will be available in February priced around $299, however Apple are taking orders today for the new device.
Check out the Apple store now for more info.
The iPhone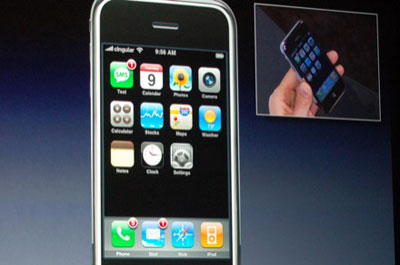 Apple's stock has no doubt risen considerably since this announcement was made. Steve Jobs personally claimed that he had been "waiting for this day for 2 and a half years". He quickly ran over products introduced by Apple in the past that have revolutionised the industry and how three more would be announced today, with a widescreen iPod that has touch controls, a mobile phone and a break-through internet communication device – all built into one beautiful contraption called the iPhone. I have personally doubted a mobile phone since the rumours started circulating and I've been careful with my words as I never doubted a SmartPhone, although even then I would have said "I never saw this coming", I'm glad I've been proved wrong.
The new iPhone features a new technology called "multitouch", invented by Apple Computer, which is to replace plastic keyboards and a stylus as often used on a SmartPhone. During this particular announcement, Steve also mentioned that Apple were the first to invent the mouse, then the click wheel for the iPod and now the "multitouch" for the SmartPhone – and if you haven't gathered by now, there are NO buttons present on the face of this piece of kit accept the home button.
At this point Steve still held off showing images of the new device, offering more information and even a quote from Alan Key, "People who are really serious about software should develop their own hardware", something I dare say Apple have prided themselves on from day one. Some of the features the iPhone has are:
The ability to run OS X, which includes Power Management, security, networking etc
3.5" screen with 160PPI (Pixels Per Inch)
A single 'Home' button
11.6mm thin
Built in 2mp camera
3.5mm headset jack
Wi-Fi
Bluetooth 2.0
Sleep/Wake button on top
Volume controls
iPod connector
Sync with iTunes
Dashboard like interface
Allows conference calling
With its slick slide mechanism, you're able to lock and unlock the phone, much like many slide phones at the moment, the difference is you use your finger on the screen to unlock the device. When viewing album art or a movie, the built in orientation adjustment flips the picture either horizontal or vertical allowing for a perfect visual experience. The killer app in question is, according to Mr Jobs, making phone calls with visual voice mail, using Quad-band GSM/Edge. As with most phones at the minute, a simple voicemail would require you to listen to each voicemail fully before moving onto the next one – I've not heard of a service to allow you to flick through what you'd like to listen to at least. With visual voicemail, you're able to do just that, by selecting which voicemails you'd like to listen to.
Sending a text message appears to be a complete breeze too, as you simply use the on screen touch-screen controls to enter text and Apple claim this to be much easier to use than Blackberry.
Photos were the "in" thing for mobile phones before MP3's hit the scene, but that doesn't stop Apple from taking a moment to think about them. By simply scrolling with your fingers you're able to browse photos, allowing the change of orientation, and by "pinching" your fingers together you can zoom in or out of an image.
The Internet communications feature allows use of rich HTML and can work with any IMAP or POP3 e-mail service. Whilst you may be weary of your phone network charges when using the internet, you can simply use Wi-Fi to wireless gain access to the 'net through your computer. As OS X runs on the iPhone, Safari RSS and Google Maps are both present, allowing up-to-date information on directions and traffic. The transition between Wi-Fi and the cellphone is pretty straightforward as well, as the iPhone can detect and automatically switch to Wi-Fi when necessary.
As mentioned above, Safari RSS is built into the iPhone as part of OS X. Jobs made a point of demonstrating some of the features, most notably the "pinch" motion which uses two fingers to zoom in to that area of a page – this is a simple way to combat the small text whilst viewing a full webpage on the 3.5" screen.
Jobs showed us his humour mid-way through the conference by using Google Maps to search for a company, in this case Starbucks, and proceeded to call them and jokingly ordered 4000 lattes, of course, he quickly bailed out of the stunt half way through and claimed to have dialled the wrong number – a great way to demonstrate a new product, I'm sure you'll agree.
Whilst I've not mentioned audio and video on the iPhone, anyone who has used or knows about the current iPod models will realise how it all works.
To finish things off, Steve Jobs promised 5 hours of talk time and 16 hours of audio playback on the new iPhone, which is comparable to many mobile phones at the minute. With over 200 patents for inventions in the device, it will cost $499 for the 4GB model and $599 for the 8GB model and will feature a variety of accessories. Moans were aired in the audience when it was announced the iPhone will only be available on Cingular with 2-year contracts and won't be out until June of this year. Whilst the exclusive partner in the U.S is Cingular, it remains to be seen what partners will be used in other countries, although I can bet Vodafone will be the leading contender in the U.K, with O2 following swiftly behind.
Apple Computer is no more…
...Don't get too worried, who calls them Apple Computer anymore these days anyway? What with the Mac, iPod, AppleTV, iPhone all being on the product list, Apple Computer is officially now called Apple, Inc. Steve Jobs wrapped things up around an hour and 45 minutes after the show started with a thank you to everyone, including the employees of Apple. Just as Steve Jobs introduced John Mayer on stage to play some music to the fantastic crowd, he received a huge standing ovation.
Summary
Whilst there's no doubt some disappointed folk out there who are wondering what happened to the update on Leopard, I think it's fair to say Apple Computer Apple, Inc. have definitely delivered this time around with the iPhone. The rumours kept flying in, then flying out, with patents and fake mock ups making the news and of course, the most recent of set-backs, the iPhone already being the name of another phone like device developed by another company - it began to look like it was all just a silly rumour that some drunken school-kid made up, but millions (me) were proved wrong, gracefully.
Whilst no new products have been announced for release today, we can look forward to AppleTV in February and the iPhone in June of this year.
So, readers of AM, what are your thoughts on the announcements? Are you disappointed, overly-joyed or a bit of both? Are you a bit knocked back by the lack of Leopard updates or are you happy to wait out a little longer? We'll no doubt receive another keynote in a couple of months anyway, so hold your horses until then.