The HP Crossfire. iMac Killer Anyone?
Music Player manufacturers throughout the world strive every day to create something more appealing and better functioning than the iPod, but this is clearly a case of trying to fix something that isn't broken. The iPod is what people want, and the rough estimate of 70% market share is clear proof of that, so it's no wonder the elegant device developed by the fruity computer giant is a benchmark for other companies. Where am I going with this? I'm talking about the term "iPod killing" of course. You've all heard the phrase before and it's used to describe a company's attempt at removing the iPods title of 'King of Portable Music' – a form of flattery if you will.
Want another form of flattery that thanks to the likes of HP's upcoming 'Crossfire' computer package will soon become common? iMac Killer!
The HP IQ770 'Crossfire' PC is sure to be one of many PC's aimed at killing off the iMac's "cool" image. With a 19-inch touch screen, AMD Turion 64 X2 dual processor, 2GB memory, 320GB hard-drive, NVidia GeForce GO 7600 graphics card, WiFi, Bluetooth, integrated 1.3 MP camera, integrated FM and ATSC HDTV tuners, a DVD±RW / DVD-RAM burner with LightScribe, Pocket Media drive bay, wireless keyboard, mouse, stylus, front media reader, one Ethernet port, two FireWire ports, six USB 2.0 ports, 5.1 digital audio out, IR-out, mini-VGA, FM and TV coaxial cable ports, ATSC and two S-Video, you can see it packs an almighty punch – some would say too much. If you take a little look at the picture below, you'll also see it's trying to perhaps 'mimic' the iMac by having everything built into one, although I'm sure you'll agree it looks no where near as tasty as the iMac.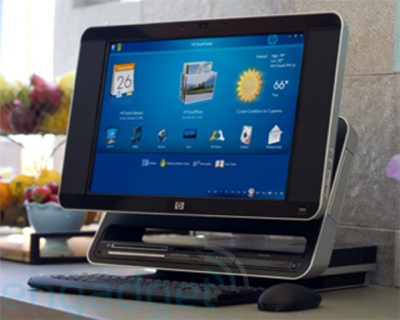 The HP IQ770 'Crossfire'
Picture source: Engadget.com
But would you say this machine could kill off the iMac's "cool" image and prevent more Windows users from switching over to the angelic like Macintosh? I say no and here's why.
Although the Crossfire packs a lovely array of powerful specs to entice even the most uninterested computer user, I believe it packs too much and doesn't really aim itself at any particular user.
There are a few categories of computer users out there and they are:
Basic users – those that maybe check their e-mails twice a week
Home users – e-mail family and friends a lot, love photos and enjoy browsing the web
Gamers – do all of the above but mostly love their gaming, and any hardcore gamer will tell you that "power" is their aphrodisiac
Business user – graphics designers, webmasters and bankers would all fit into this category. Especially for the graphics designers and video editors out there, power is everything, and I do mean everything
Now if you take a look at the Mac range there's currently a computer for each type of user, although some could argue that no Mac really fits into the 'Gamers' criteria. The Mac mini is set at a reasonable price and doesn't over do it with the power because it's not needed, thus, it's great for the 'Basic users'. The iMac and MacBook are great for home users because there's just the right amount of power equalled out with a sensible price. If you use your computer more than most then it's a great buy. Then there's the MacPro and MacBook Pro ranges which are aimed directly at Business users and, if you like, Gamers, simply because the power that is needed is there and the price is something that wouldn't seriously effect large companies.
Now although I like the idea of a computer than can do everything, I don't think it will appeal to too many others. For the price, $1899 so I'm told, it's not something that would directly attract the basic users, so they're out of the question. Home users would possibly splash out the cash and it's ideal for them in that it can do most of the stuff they'd want to do, as well as acting as a media hub. And for gamers and business users? That 19" touch screen could come in handy, and if it's power they're after then they've got it, but don't be blind sighted by the facts. Let's not forget that this Crossfire machine was designed with Windows Vista in mind and anyone who pays attention should know that Vista is going to need a stupid amount of power in order to run at a comfortable speed. And my idea of comfortable isn't waiting 5 minutes for something to load.
So suddenly those powerful specifications aren't really all that impressive and the hardware isn't all that attractive. You could look to the aesthetics of the Crossfire to sell, but it does look like a reincarnated cross between E.T and that Johnny 5 robot out of Short Circuit. So what's last on the list in the world of a computer? The operating system. I'm going to wrap this up in one smooth motion, are you ready? It's got Microsoft Windows on it, albeit with a fancy name and pretty unimpressive graphical user interface.
So looking at the seemingly impressive Crossfire, with its sexy but some-what over-kill features (FM tuner over DAB radio anyone?), I can honestly say that it's just like any other computer, but on steroids. If anyone is going to kill off the iMac's cool image, it's going to be the guys that created it, Apple Computer.