Can Apple Cut a Swathe Through the Home PC Market?
Can Apple make significant inroads into the PC market? Last week we decided it was possible provided you accepted that notion as being significant relative to Apple's current market-share. However, within the whole PC market exists smaller market segments. The three major ones are business, home and education. The business market could be further segmented and you will find Apple doing very nicely in the multimedia segment.
However, let's look at the home PC market. Can Apple make significant gains, not only relative to its current market-share but also as a portion of Windows PC home market-share?
Looking again at last week's graph, we see that it has been done before.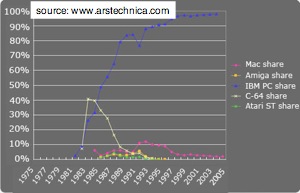 That massive spike in 1983 was the Commodore 64 making huge inroads into, or possibly even creating the home PC market.
Could any computer do a "C64" and leap to 40% market-share overnight? Quite unlikely. In 1983 the market was fragmented among dozens of vendors, each with its own OS. The IBM-PC and clones were still only selling in the business market. Another factor was the market was tiny, so for example, Commodore sold 2 million C64's in 1993 and achieved 40% market-share, whereas in 1993, Apple sold 4.5 million Macs, but that only equated to 12% of market-share. And nowadays its only about 4% of market-share.
Commodore's success in 1983 is similar to the iPod's success. The right device entered a small and fledgling market with many players but none significantly dominant. However, unlike Commodore with the 64, Apple has been able to successfully leverage the early success for ongoing success.
Commodore's C64 sales would have been almost exclusively in the home market. Could Apple release a Mac that could chomp away such a large segment of the home market? On the one hand no, given people's attachment to Windows, they're not going to get out of their comfort zone.
But on the other hand, if something pushed them, then maybe. And what's more, getting out of the comfort zone is not such a big issue because people's real attachment to Windows hinges on two things: Windows and MS Office; familiarity and compatibility. Both of these are things Apple can overcome, and are tackling. Eg Bootcamp and the "Get a Mac" ads mentioning Office for Mac regularly.
Apple can make serious inroads into the home computer market with the right device and the right marketing. In personal computing, with the convergence of computing and home entertainment, the home market is at a point of upheaval. Recently on ZDNet there was a report that "70% of Americans are unaware of what Media Center PCs can do" despite many of them owning PCs with media center capabilities.
Can Apple convince consumers that the media center is a fledgling device and all vendors are on equal footing? And/or can Apple convince consumers that the ability to run MS Office and Windows on Macs puts it on equal footing with any Windows PC? If Apple can do either or both of these, it will take a huge chunk of the home computer market.
There is another segment Apple could use to make inroads into the home market. Games. (If you've all finished laughing, I'll continue.) Recently there has been talk of Apple getting into games development, and Business Week ran a story on the possibility, with an interview with Glenda Adams of Aspyr Media. She believes Apple should get serious about games.
Games are an interesting beast. It seems in the games market, every year there's a "killer app" released. Titles like Quake, Halo, The Sims, and Civilization easily spring to mind.
Could Apple develop a game that is a "killer app"? Given Apple could limit it to OS X only, yet still sell a computer that runs Windows, it'd have some decent leverage. But would gamers buy a computer they couldn't upgrade? Gamers tend to like tricking up their machines with triple overhead foxtails and so forth. No current Mac for the home market allows that. You have to get a PowerMac (Mac Pro?) and the entry cost is quite high.
If Apple takes Nintendo's approach though - i.e. that gameplay, not graphics, is king - then they really could produce a game that gamers would want and that would run on an iMac or even a Mac mini. Civilization and The Sims are two example of must-have games that didn't rely on eyeball busting graphics.
As Business Week says:
...why doesn't Apple try its hand at building good games for the Mac on its own? Apple is full of creative people turning out great software, but why hasn't it ever turned out a game? After all, gaming is in Apple's very DNA. Early in their pre-Apple careers, Steve Jobs and Steve Wozniak (some accounts suggest that Woz did most of the work) created Breakout for Atari
Between this week's and last week's articles, we now are at a point where we've identified a few ways Apple could crank its market-share up, such as by:
- Having a superior and stable OS when Vista comes out
- Producing a true Media Center computer, that like the iPod, defines the device and the market
- Developing a must-have game
- Allowing Windows to run on Macs (which of course they've already done)
The home market is open again and for the first time in several years. If Apple plays its cards right, it can take a sizable chunk of the market. Although I didn't intend this to become a series, I will discuss in the next couple of weeks one of the factors I see preventing success and why switching to Mac is a real option.