Vlingo: Another Powerful Voice Recoginition iPhone App
Most of us iPhone and iPod touch users are not too keen on touch typing on our devices. Sure, it's not the hardest thing to do, but unless you're a teenager, you probably prefer making phone calls over typing text messages. But what if you could voice dictate your messages?

Well, another voice recognition application that uniquely integrates with the Mail, SMS, and other search and communication features on the iPhone was updated and released, last week,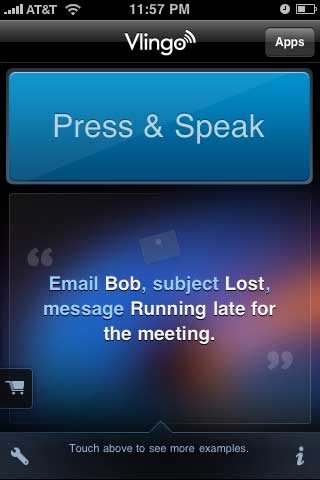 "Vlingo Corporation has launched an enhanced version of its popular Vlingo for the iPhone. The app gives users the ability to send email and text messages simply by speaking into their iPhone. Unlike speech recognition apps that offer a single use only, Vlingo delivers up to six voice-powered features including: email, SMS Paste, social site updates, maps and voice dial. Vlingo for iPhone supports North American & UK English."

I hadn't heard of Vlingo until I was notified by the company last week, and after giving the application a trial run, I'm glad they contacted me. Vlingo is a nice alternative to touch typing, though like other voice recognition applications, it may be a little tricky to use. As I wrote in a review of MacSpeech Dictate, dictating words is as much a skill as learning to write, both approaches are very different.

That being said, first off, Vlingo will appeal to 3G users like myself who long for voice dialing. For the most part, Vlingo scans and indexes, with your permission, your list of contacts in your Address Book so that it can deliver better accuracy for contact recognition and voice dialing. So when you speak a contact's name, it delivers the multiple numbers for that contact, "or it might start auto-dialing a contact if it's confident it didn't make a recognition error and is dialing the correct name you spoke." And even in auto-dialing, you have a few seconds to cancel before the call is initiated.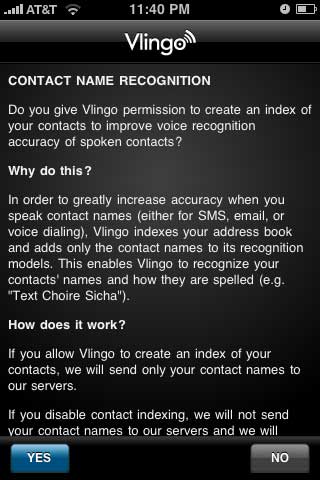 For FaceBook and Twitter users, Vlingo offers direct connections. After launching the application you can start by saying, "Twitter update," or "FaceBook update," followed by the message you want to dictate. When you're done, Vlingo will use its social networking client to send your completed messages. You of course need to sign into your respective accounts using the Vlingo settings. A really nice added touch to this voice recognition program is that you can correct dictation errors or add more text with the built-in keypad before hitting the send button.
No voice recognition program is 100% accurate, and learning how to dictate words effectively takes time, so the keypad really comes in handy. Plus, I did encounter problems with the app when it comes to capitalizing words. It tries to do capitalization automatically, and there's no command to do it, as it is with dictating punctuation. It worked well with a Google search but not with a Twitter dictation I did that include the title of a book.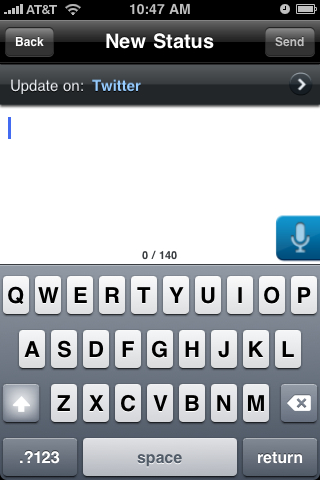 Because Vlingo integrates with other relevant communication applications on the iPhone, it means you don't have to dictate text, close out the application and then paste it into another application. It can all be done within the same program. However, the last piece of text you dictate, automatically gets copied on the clipboard so, for example, if you need to paste that text into your iPhone's notebook or other application you can do so.

In this recent update of Vlingo, the company changed the user interface. When you launch the application, you can use voice commands to indicate which other applications you want to use for your dictated message, or you can click a second screen that includes six applications: Email, SMS Paste, Maps, Search, Social, and Voice Dial. When one of these is opened, you can both voice dictate and type messages. In the old version, it looks like these applications were put at the bottom of the home page in a menu bar. I like that better than having to click to a second screen. But hey, this is a voice recognition program, so it's probably better to use voice commands and instead of relying on soon to be antiquated touch technology.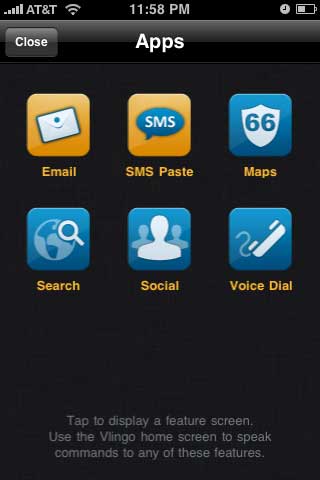 Vlingo comes with great written and video instructions and tips for using the application, so it's not that difficult to quickly learn its features.

It's a free app, but free only to a certain extent. The company has gotten a lot of flack for being "misleading," about what is free. All but two the applications, SMS and Email, are free. The other two will cost you $6.99 each or $9.99 for both. Yes, this is pretty pricey, but if you're going to use these apps a lot, it might be worth the cost for this advance technology. Note, however, that with the SMS app, the dictated messages are not pasted directly into SMS. You have to paste it yourself. Apple restricts 3rd party apps, like Vlingo, from sending text messages directly.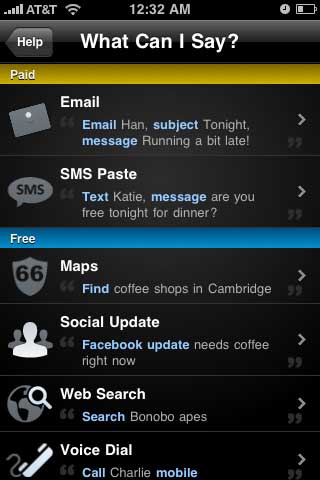 There are other applications like Vlingo. Dragon and Dragon Dictation are the two best free apps in this category. The latter one integrates with email, text messaging clipboard copying, like Vlingo does. However, Vlingo puts the features of the two separate Dragon apps into one program. Vlingo will probably replace both of the Dragon apps on my iPhone, for it's already made to a well deserved spot on my iPhone's homepage.

If you haven't tried 3rd party voice recognition apps on your iPhone yet, you owe it to yourself to get the free download of Vlingo. Despite the grumbling about the paid features, it's a powerful application that should be included in the next update of the iPhone.