The Missing Sync List
For those of you that own an Xbox 360, hopefully you remember my article from a couple of weeks ago where I spoke about Connect 360, a small but incredibly useful application that helps to synchronize your Xbox 360 with your Mac, allowing you to view photos, videos, and music on your own TV via Microsoft's state-of-the-art gaming console.
Well, this week I've got some good news for Windows Mobile, Palm OS, Blackberry, and Sony PSP owners out there, as Markspace.com delivers the synchronizing goods with their selection of software.
It's a shame there isn't more support already built into the Mac platform to allow syncing with these popular devices; perhaps that's something that can be addressed in OS X Leopard when it's released in a couple of months.
Syncing Windows Mobile
The Missing Sync for Windows Mobile is the first up on the list, available in both download and CD formats from the developer's website (info below).
With the software you'll be able to sync with almost all Smartphones and PocketPCs made since 2002, including Motorola Q, Palm Treo, and even the older iPAQ's.
Items that can be synchronized from your Mac include details from your Address Book, calendar events and tasks from iCal or Microsoft Entourage 2004, Word and Excel files, photos from your iPhoto album, and music from iTunes (although protected music transfer is a no-no). With the package you'll also find a free program called Mark/Space Notebook, which allows you to create, edit, categorize, sort, and search notes on your Mac, both textual and audio based.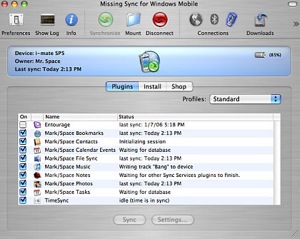 Interestingly, MarkSpace also includes a "smart install" feature on their software that installs mobile applications on your Windows Mobile device in the right area of the phone—apparently novice users would struggle with this sort of thing.
You can check The Missing Sync for Windows Mobile webpage for more information on which devices are supported, as well as system requirements for your Macintosh system.
Requires:
OS X Tiger 10.4.8 or later
PowerPC G4 or later (including Intel chips)
Purchase Info:
Download $39.95
CD-Rom $49.95
Demo available
http://www.markspace.com/missingsync_windowsmobile.php
Syncing with Palm OS and Blackberry
A lot of what is available on The Missing Sync for Palm OS and The Missing Sync for Blackberry can be found on The Missing Sync for Windows Mobile, but with a few extras.
These include colour-coded iCal management, allowing you to set specific dates to a certain colour as you would do with iCal on your Mac—for example, red for important, blue for leisure time, and green for your gym class times. If it's photos you're after, they'll automatically be resized and transferred to your Palm OS from iPhoto, allowing you to save valuable memory on your PDA.
According to the official webpage, the software provided with your Palm OS can't restore your device to a previous state (for example, when you had that contact on there before you accidentally deleted it last night), but The Missing Sync for Palm OS allows this to take place with a simple click of the button—there's also a check box that when ticked will remind you to synchronize your device on a regular basis, so there's no more "oops, I forgot to sync last night."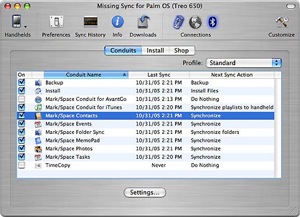 The Missing Sync for Palm screenshot
Syncing with Palm OS requires:
OS X Panther/Tiger 10.3.9 or higher
PowerPC G4 or later (including Intel chips)
Purchase Info:
Download $39.95
CD-Rom $49.95
Demo available
http://www.markspace.com/missingsync_palmos.php
Syncing with Blackberry requires:
OS X Tiger 10.4.8 or higher
PowerPC G4, G5 and Intel processor
Purchase Info:
Download $39.95
Demo available
http://www.markspace.com/missingsync_blackberry.php
Syncing with Sony PSP
The Missing Sync for PSP goes well with my review of Connect 360 above as it does a similar sort of job; however, when it comes to transferring videos you're able to do a whole lot more. If you've seen a video on YouTube or Google, simply use the built-in encoder and you can see those same videos on your PSP at the right resolution without compromising a whole load of precious memory. If you've got more than one memory card you're also able to keep organized by allowing music for one memory card and perhaps a video collection on another.
The Missing Sync for PSP also allows you to view web pages offline. Assuming you've previously selected a couple of websites you'd like to view offline, The Missing Sync for PSP will automatically download the latest content for each webpage and store it on your memory card, so the next time you're on your way to work on the subway, you'll still be able to view all the latest happenings on Apple Matters.
A lot of the features present in the other The Missing Sync series can be found in The Missing Sync for PSP, including iCal and Address book, iPhoto, and iTunes synchronization, with the latter allowing you to set up playlists on your PSP, just like you do with your iPod.
A couple of new and different features include styles and themes for your web browser, synchronizing folder contents from your Mac to allow you to use the PSP as an "electronic backpack" and, as with Palm OS and Blackberry Missing Sync's you can take notes using the built in Mark/Space Notebook—a great way to make your Sony PSP more of a PDA than a gaming device.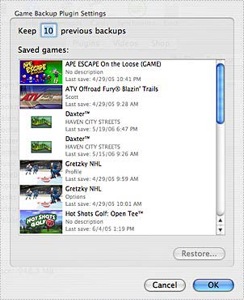 Requires:
OS X Tiger 10.4.6 or higher
PowerPC or Intel processor
Purchase Info:
Download $29.95
No Demo available
http://www.markspace.com/missingsync_psp.php