The Amazing Resale Value of Your Mac
If you buy a PC, what's it worth in a year? 70% of what you paid for it? Maybe. How about in two years? 40%? Ok, how much is it worth in five years? $50? Things change when you buy a Mac. You see, after a couple of years you can always head over to eBay and recover some of your initial investment. But to give you an idea of just how much you can get for your old machine, I checked out some prices on eBay and found some interesting things.
Imagine if each year, for the past six years, you bought one of Apple's 15" pro laptops. And now finally you want to sell them all; what could you get for them? How much value does your machine hold over time? This very subject became quite important to me a week or so ago when I finally decided to sell my old PowerBook. And let me just say, the results were pleasantly surprising.

For comparison purposes I tracked the price of a 15" MacBook Pro (and then a 15" PowerBook). The graph below shows the current going rate (on eBay) for Apple's pro 15" laptop for each year for the last six years.
Model Year Released Current Price Original Price
15" MacBook Pro Core 2 Duo 2.33GHz 2007 $2,000.00 $2,000.00
15" MacBook Pro Core Duo 1.83GHz 2006 $1,450.00 $2,500.00
15" PowerBook G4 1.67Ghz 2005 $975.00 $2,300.00
15" PowerBook G4 1.33Ghz 2004 $825.00 $2,000.00
15" PowerBook G4 1.0Ghz 2003 $560.00 $2,000.00
15" PowerBook G4 867Mhz 2002 $500.00 $2,300.00
15" PowerBook G4 667Mhz 2001 $400.00 $3,000.00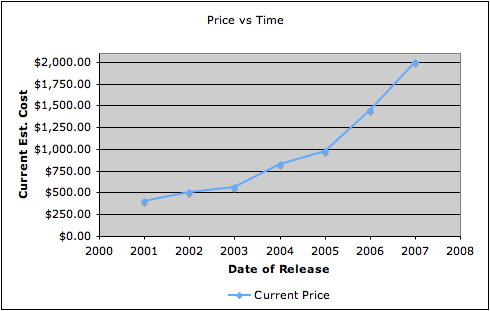 Now, if you look closely at the graph you will see a very surprising trend. A new machine currently costs $2,000, while a year-old machine sells (on eBay, mind you) for around $1,500, and a two-year one for about $1,000. At this point, one would expect things to go downhill from there fairly rapidly (much like in the PC world). After all, prior to 2005, all the laptops were using the now-obsolete G4 chips which should make them worth even less. But instead, prices seem to level off a bit which means you can (and, in fact, I just did) sell a six-year-old laptop for close to $400. This is even more impressive when you realize that you can buy a brand new laptop from Dell, Acer, Toshiba, and the like starting around $600.
Here is another graph which shows the ratio of current price to original price. This gives you an idea of how much you can expect to get back from your original purchase (assuming, of course, that you bought it brand new in the year it was released).
These numbers can be interpreted in two different ways. The first way is to look at these prices and assume that because Apple faces no hardware competition, prices stay artificially high. And I think this is a fair way to view the current market for used Apple products. However, the second approach is to realize that Apple's hardware stays relevant longer than the equivalent in the PC world. With the announcement of Vista, all the reviews I have seen recommend either a new (or fairly recent) computer if you want to run the new Windows OS. How many Mac users bought a new machine to run Tiger? Quite a few, no doubt, but it should be noted that I ran Tiger just fine on a six-year-old 667Mhz laptop. Go get a six-year-old Dell and let me know how well it runs Vista.
This might be old news for all you Mac vets out there, but for your brother or cousin who just bought their first Mac, be sure to pass along this useful bit of info. Macs remain competitive long after their PC brethren have gone to that great recycling heap in the sky. Which means, in the long run, your Mac cost less. Just something to think about next time you get ready to put your old Mac out to pasture. Somebody still wants it.