Safari-fy Your Firefox in 5 Steps
A couple months ago I was fed up with Safari. In the midst of lagging YouTube videos and sluggish Top Sites, I fired up Firefox 3.5 and imported all my bookmarks and settings. Over the next couple of days, Firefox earned a spot on my dock, and Safari is long gone.

There was one slight problem, however. Firefox is extremely ugly compared to Safari.
Safari's overall design and user interface is simple and elegant in comparison. With Firefox's extreme flexibility on themes and add-ons, I've successfully created a browser with Firefox's speed and Safari's looks.
Looking to do the same? Here's how I did it in five simple steps.

1. The GrApple Yummy Theme (http://www.takebacktheweb.org/)
This theme essentially provides most of the customization. It provides the metallic aluminum look introduced in Safari 3.

2. Fission (https://addons.mozilla.org/en-US/firefox/addon/1951)
Fission provides the combined address and progress bar.

3. Auto-Complete
One of the best features on Safari was the ability to auto-complete my URLs from my bookmarks or history. For example, I would only need to type "face" for it to auto-complete to "facebook.com".



In Firefox, type "about:config" in the address bar. Promise that you'll be careful and search for "browser.urlbar.autoFill". Double click it and set the value to true, like so:



4. Get Rid of the Home Button
This is mainly up to you, but Safari doesn't have a Home button. In Firefox, click View -> Toolbars -> Customize. Then drag the Home Button next to the address bar to the drop-down.

5. Stylish (https://addons.mozilla.org/en-US/firefox/addon/2108)
Stylish allows the user to install separate themes and add-ons. This is a relatively complicated add-on. You will need to install the following after installing Stylish:
UserChromeJS (http://userchromejs.mozdev.org/)
Combined Stop/Reload Button (http://userstyles.org/styles/10)
Safari 4 Tabs (http://userstyles.org/styles/18681)

Other tutorials have customized Firefox further, but they don't seem to work on my Mac. I haven't been able to move my reloading button to the right side or my bookmarks to the left without it looking like an accident. These were the other add-ons to Stylish you could test out:
Star + Location Bar (http://userstyles.org/styles/18000)
Stop/Reload + Loading Bar (http://userstyles.org/styles/19500)

How to Install Code to Stylish:
On the webpage, there is a button called "show code." Select it and this should pop up.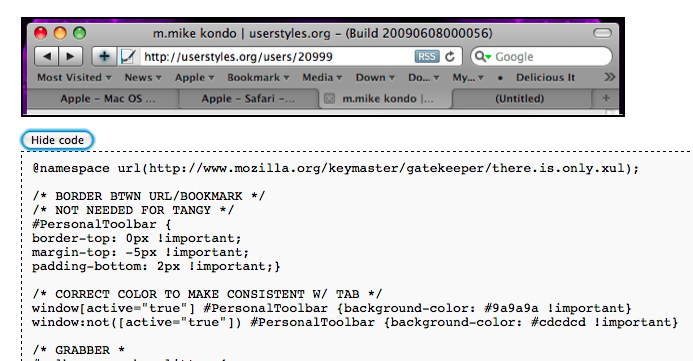 Copy the code to Tools -> Add-ons -> User Styles -> Write New Style. Name the style to the corresponding modification you are making, and paste the code into the body, like so.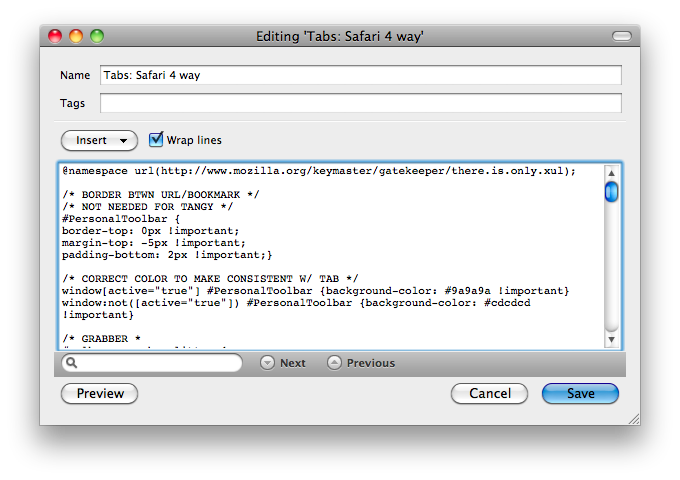 You're done! Here is what my version of Firefox looks like next to Safari 4. Note that I've included other add-ons for Firefox that include Google Chrome features. Drop a comment if you'd like to know how to get those too!
Firefox: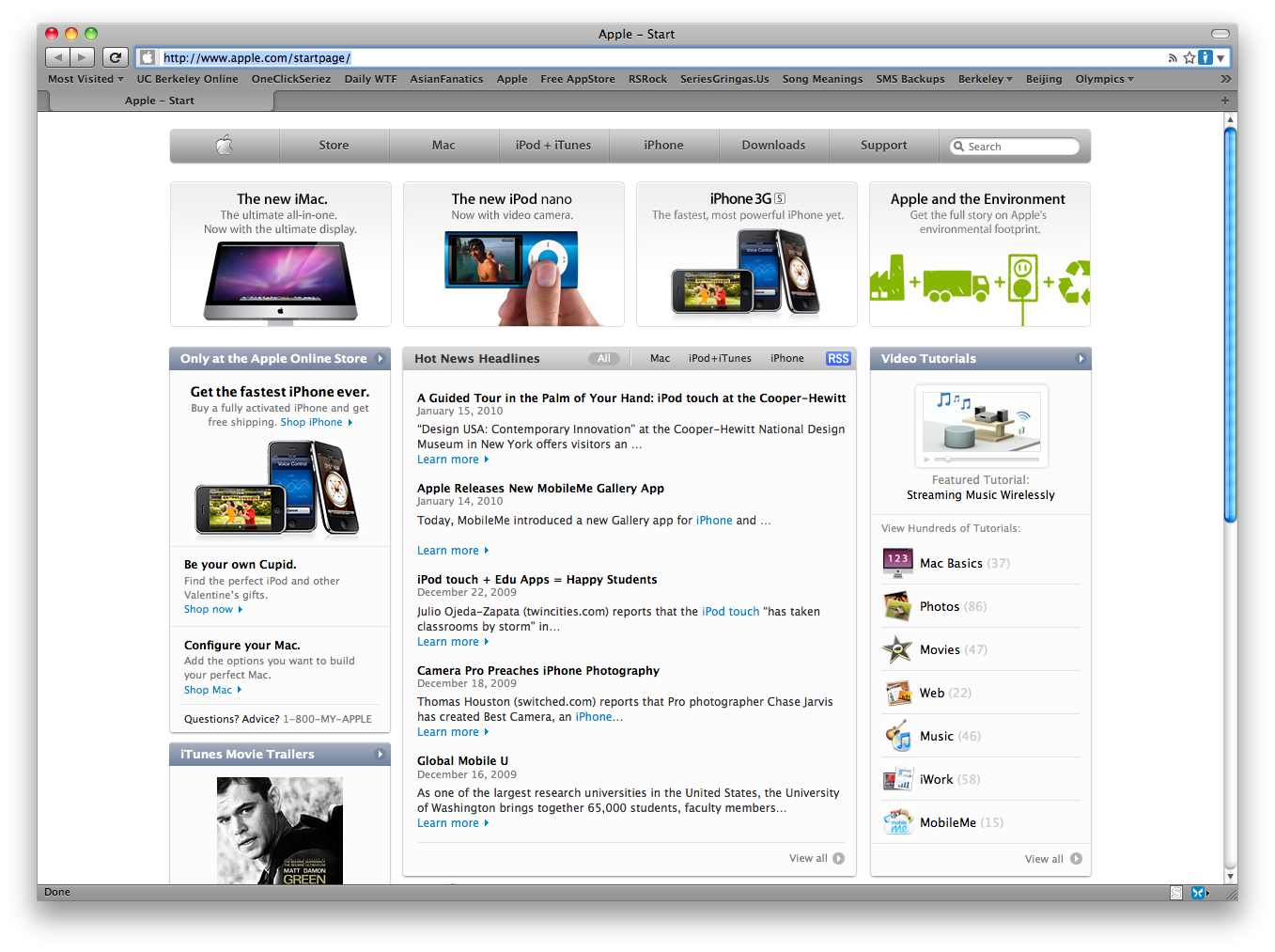 In comparison to Safari: