Review: iFuntastic
In its latest incarnation, iFuntastic is truly the only application an iPhone owner needs. With the release of 4.6.1, this application is now able to provide all iPhone users (except those with iBricks) with hacks, tricks, and utilities to get more out of your iPhone than Jobs intended.
The biggest addition to the latest version is the ability to, through a pretty GUI, switch iPhone firmware and even unshackle iPhones with the 1.1.1 firmware. You can even switch firmware using iFuntastic. (Note: "Unshackling" means giving the iPhone the ability to have third-party applications installed.)
Of course, there already are free guides available that will walk you through the process—but for those who are not too savvy with power utilities or people (like me) who just want a simple, easily repeatable process, iFuntastic is a great tool.
To be clear, the iFuntastic process is not entirely automated. It does prompt the user to interact with iTunes, but the instructions are clear and every step goes through iFuntastic and so there are few surprises. The app will even start iTunes for you, automatically restart the iPhone when required, and handle all the other dirty hacks beneath the hood.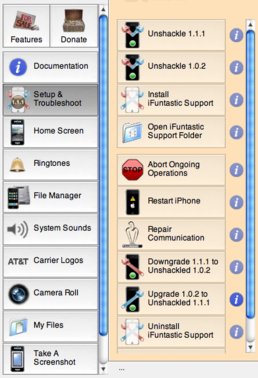 This is not the only thing that iFuntastic does. It also allows you to transfer ringtones to your iPhone, which is a nifty feature, especially when it does not cost money for every ringtone. Similarly, you can change any of the system sounds fairly easily. There is a File Manager, which allows you to browse the iPhone file system. This also allows you to modify and replace icons and images used on your iPhone, such as your battery indicator or WiFi logo. The great thing, however, is that you can move files to and from your iPhone. So if you installed the Nintendo emulator and want to transfer some game ROMs to the iPhone, just drag-and-drop into iFunstastic's File Manager. You can also rearrange the Home Screen of your iPhone, if you want the icons arranged in a different way or rotated to landscape.
One very cool feature of this application is the ability to take screenshots of your iPhone screen. This is especially useful to explain something to customer support or as an aid to an article (like this one), email, or forum post about your phone. Here's my current home screen, with an old-school 1984 Mac theme.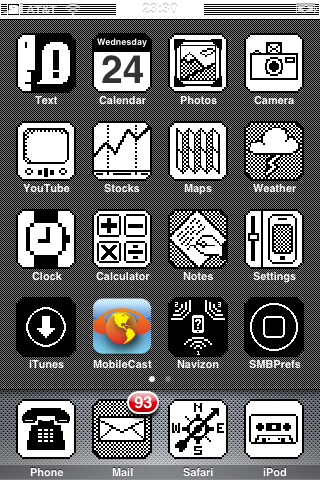 The real power of the application, however, is that every step is clearly and thoroughly documented, which is extremely important when you're hacking an expensive device. A word of caution: while almost every iFuntastic hack is reversible, be aware that you are messing with powers that mere mortals were not meant to have. Backup your iPhone, follow the instructions to the last letter, and do not do anything you do not completely understand. This is a stable, well-tested application, but it has not been touched by the word of Jobs.
iFuntastic is shareware that provides five free uses before asking for a modest five dollars for the "unshackling" feature. There is a similar five dollar price for getting more than five uses for the ringtones feature and the custom application icon feature.