LittleSnapper Is a Problem Solver
Every since Realmac Software notified me several months ago about the beta version of their latest software, LittleSnapper, I've been eagerly awaiting it because I could instantly see that it was going to a problem solver. If you're like me and you take a screen shots of websites and applications on a regular basis, you know what a drag it is to have "screenshot.png" files scattered all over you desktop. Until getting my hands on the beta testing version of LittleSnapper, I had developed a few little Automator workflows that automatically moved all my screenshot files into dated folders. I used another workflow to batch rename the files, and finally I renamed the dated folders based on the specific contents of the file. But I never took the trouble to actually catalogue my screenshots so they could re-used for different purposes.
Well, with LittleSnapper, the problem is solved. This is little puppy is great for designers, developers, and web-based freelance writers who take and catalogue screenshots and 'webshots' of webpages. Shots can later be organized, categorized and managed iPhoto style through the application's image library.
Though I don't snap entire entire web pages very often, that's exactly what LittleSnapper can do. In it's press release, Realmac explains it well: "LittleSnapper can take a snapshot of any given web address from its system-wide menubar item, through a customisable system-wide keyboard shortcut that snaps the current web address from a users' browser, or using the built-in LittleSnapper Browser. The built-in browser, based on the powerful WebKit rendering engine that powers Apple's Safari web browser, allows a user to load a web address inside the application itself and snap (for example) a site that has interactive Flash content and capture specific page elements without the need for cross-hairs with its intelligent element selection. LittleSnapper also allows the user to take full-screen, area and window-based screenshots on their Mac desktop, and the snaps are also added to the LittleSnapper library." This feature indeed has worked entirely well based on my testing.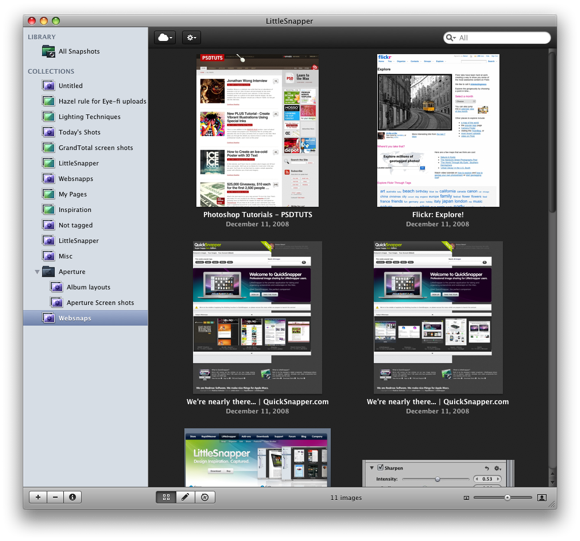 My needs though are for primarily snapping area and window shots of applications that I'm going to write about or use in presentations. This feature of LittleSnapper works exactly like Apple's built-in Grab application. Even the shortcut keystrokes for both applications are similar, making it easy to transfer from Grab to LittleSnapper.
LittleSnapper goes one step further and allows you to edit your snaps. You can mark up your shots, non-destructively with lines, arrows, rectangles and circles that all rest on a semi-transparent layer that the user can then cut out to hightlight certain areas, as well use a blur tool to obscure details. These vector tools are like what can be done in Apple's Preview application, but with LittleSnapper, all your management and editing needs are one place.
Snapshots can of course be exported out as full PDF, JPEG, TIFF, and PNG files. And just like with iPhoto, you can drag selected snapshots out of LittleSnapper onto your desktop or into any other supporting application. This application also goes one step further and enables you to upload your snapshots directly to your Flickr account or to RealMac's QuickSnapper, a site designed to compliment the LittleSnapper desktop. LittleSnapper users can share, comment on, and search uploaded snaps by other members. Just as with images posted on Flickr or Picasa, QuickSnapper provides HTML link coding for each uploaded snap. If you're a Tweeter, you can post snaps directly from QuickSnapper to your account. You can of course FTP and SFTP publish snaps to your own webserver.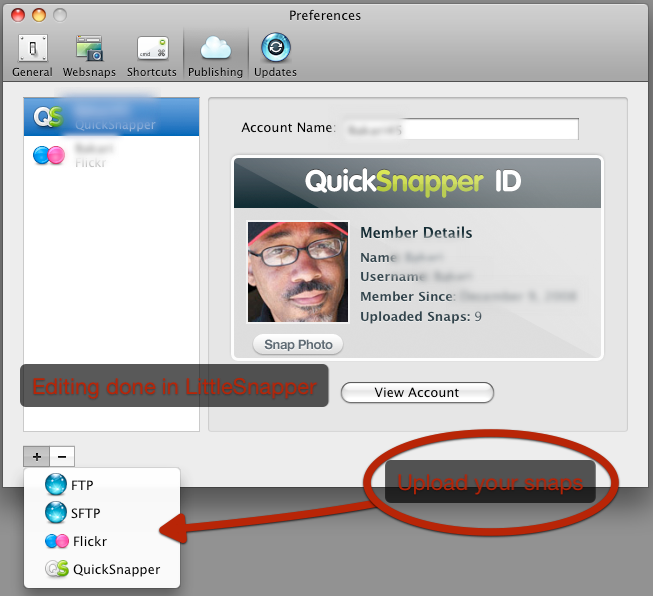 So basically, LittleSnapper is a problem solver. But as with any first version of a piece of software, there are numerous features left out. You can't resize snaps in the application and you don't have the option of setting up default file names for your snaps. So it's still a hassle to go back and re-name files. You can batch re-name and tag files, but that's the extent of it. One other badly needed feature is the ability to import snaps into a specified albums in your library instead of having to drag them into designated albums, or having to use the smart album feature to collect them. The smart album feature works like iPhoto, but its parameters are limited in this first version.
There are other features that you might want with this application. And you might want to try out a similar application called Skitch. I compared both, and while there's much that I prefer in Sktich over LittleSnapper, the ability to catalogue my screenshots in RealMac's application is what made it a win for me over Skitch. Sktich however is free, at its current beta level.
The price tag for LittleSnapper is $39 for a single user license, and $129 for 5-user Studio licenses. I think the price is a little high, but if you have professional use for the application, it could well be a time saver, and again a great problem solver.