iTalk vs. Voice Memo
All of us iPhone and iPod touch users are without doubt elated by this week's 3.0 operating system update for both devices. I for one used the much wanted cut and paste feature at least three times in the first hour of updating my iPhone. I'm also looking for a pair of bluetooth speakers that I can now use because of the new A2DP Bluetooth feature. And I'm pretty sure there are few other new software features that will replace some of the 3rd party apps I've downloaded in the past.

But one app that I will not delete from my iPhone is Griffin's iTalk, a voice recording application. Apple's 3.0 iPhone update also now includes a similar application called Voice Memos. But it simply doesn't live up to the features of iTalk. Both of these apps are clean and easy to use. The interfaces are straight forward, and there are many uses for these voice recording devices. Apple no doubt included Voice Memo because it would appeal to the enterprise sector of iPhone users. But you don't have to be Steve Jobs C.E.O or a university professor to use voice recording. These applications are great for recording your kids reading or giving their first classroom presentation, for making a list of reminders, or for recording a lecture or meeting you're attending.


While Apples Voice Memo will suffice for general users, Griffin's iTalk is a little more robust. But if you're thinking you don't want to pay for yet another iPhone app, well you won't have to. iTalk is a free download with very unobtrusive ads attached to it. (If you want the ad-free version, you can of course get iTalk premium for $4.95.) So just because Apple's Voice Memo comes installed with the new update doesn't mean it's the best option.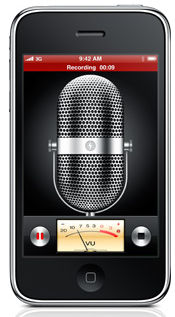 If the developers of Apple's Voice Memo took a look at Griffin's app when they created Voice Memo, they missed some obvious interface features contained in iTalk. The number one missing feature in Voice Memo is the ability to title your individual voice recordings. You can assign recordings to a particular category, such as lectures or reminders, but each of your recordings is stamped only with the time and date you started the recording. No custom title. Like duh!....time and dates really don't help you identify what an individual recording is about, even if it's categorized. I seriously don't understand why Apple left that out.

iTalk on the other hand allows you to title your recordings before and after your individual recordings. Additional information about date, time, audio quality and format of recordings are also included for each saved audio file.

Interface Features
Both apps require only one click of an interface button to begin and stop recordings. The iTalk button is much larger, however, and I think it makes the design better. The front screen of Voice Memo consists of a microphone icon, but when you click on it, it doesn't start your recording. It simply provides a voice level check. That feature is not included with iTalk, but I'm not sure it's needed. I think it would have been better to use that mic icon to start and stop recordings. iTalk's home screen also includes options for three levels of recording quality: Good, Better, and Best. Those quality distinctions are absent from Voice Memo, though the audio sound of Voice Memo compares well to the "Best" sound of iTalk.

Sharing and Archiving Recordings
One of the initial recordings I made with iTalk was of my son's first classroom presentation which he had to memorize. I also made a recording of him reading aloud one of his favorite stories. These recordings, and more to come, will be cherished for years. So how do I archive them? Well, Griffin makes a free application called iTalk Sync which pairs with your iPhone and syncs your selected recordings to your computer. You can even have it import your selected recordings directly to iTunes. The process is a no-brainer.
Voice Memo also has a sharing feature. But it requires you to email individual recordings to your computer or to someone else's email. iTalk lacks the ability to email recordings. So if you find yourself needing to email recordings from your iPhone, that's the only real advantage I think Voice Memo has over iTalk.

I'm sure there are many other iPhone apps that we all wish Apple would include in the software system, but it's really sort of odd to see it develop and include an application that is somewhat inferior to a pre-existing third-party one. If in fact the iPhone is really a $600 mini-computer, you would think that the applications made for it would meet certain standards. That's just my view. So Voice Memo is on the last page of apps on my iPhone while iTalk is near the front.