Five Ways to De-Clutter Your Desktop
You can't see the forest for the trees is an apt adage for how frustrating it can be to get work done on your Mac when you have a cluttered desktop. I struggle with this problem a lot, and though I think maybe having a second monitor attached to my computer might help, it probably won't. So here are some tools that I use (and features I wish Apple or other developers would develop) to help de-clutter the desktop.

Show Desktop
The fastest way to clean up your desktop is to use a little application aptly named, Show Desktop (donationware, $5.00). This application sits in your Mac's menubar, or in the dock, and all you have to do is click it and all Finder windows and applications will hide. Sometimes the app is a little buggy, but for the most part it works. You can also shift-click the app's icon to make all active apps appear. The biggest drawback to this application is that it's not an automated process. It would be great as an option, for example, to have all active applications minimized when your computer is put to sleep.

Spirited Away
My favorite solution for de-cluttering a desktop is called Spirited Away (free). This application "checks each running application's activity, and if an application isn't active for a certain fixed time, Spirited Away hides the application automatically." In theory that's how it's supposed to work, but it's often hit and miss. When it works, it's an awesome solution, but some applications, like Preview or Safari, it never "spirits away."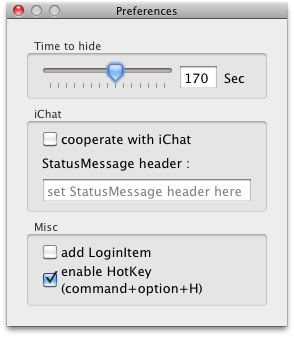 I also wish the developer, based in Japan, could work on and expand this application. In fact, it would be great to have active applications quit, instead of just minimize, after a certain time of inactivity.

Hazel
I've written a little about a must-have application called Hazel ($21.95). This powerful program will automatically clean up your desktop and other Finder folders, including the trash can. One rule I have set up in Hazel moves all files on my desktop to a designated folder in my documents folder when those files have been on the desktop for 24 hours. In turn, Hazel automatically trashes those moved files after they have been in the designated folder for more than 15 days. The same goes for screen shot files with a .png extension. Those files are moved off my desktop to a designated folder after they have been there for two hours.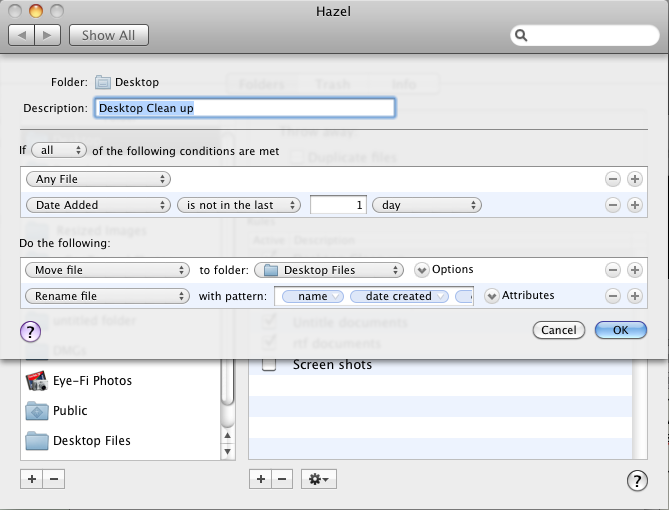 Setting up rules in Hazel can be a little complicated and sometimes it doesn't seem to work as it's supposed to, but the developers of the program have a good forum set up to help. Hazel is a powerhorse for keeping your files and folders organized.

Linked Applications Launcher
A few weeks before I updated to Snow Leopard, I was using an application called Linked Application Launcher ($15.00), which automatically allowed me to launch or quit applications that I had linked to one another. So for example, when I launched or quit Aperture, Photoshop would automatically launch or quit too. The same would happen with iCal, Address Book, and TextEdit, which were linked together for opening and closing. Linked Applications was very useful, but now the developers are having to update it for Snow Leopard.

Sticky Windows
Sticky Windows ($19.95) is another desktop de-cluttering application that I used nearly everyday, but it too is being updated for Snow Leopard. Sticky Windows allows you to park any open windows to the edge of your desktop screen. It's almost like minimizing applications, but it turns any opened window into a tab that can be parked anywhere on the edge of your screen. I used this program mainly for opened browser windows that I would access throughout the day. The process also has an automated option for parking selected windows when they're not in the forefront window.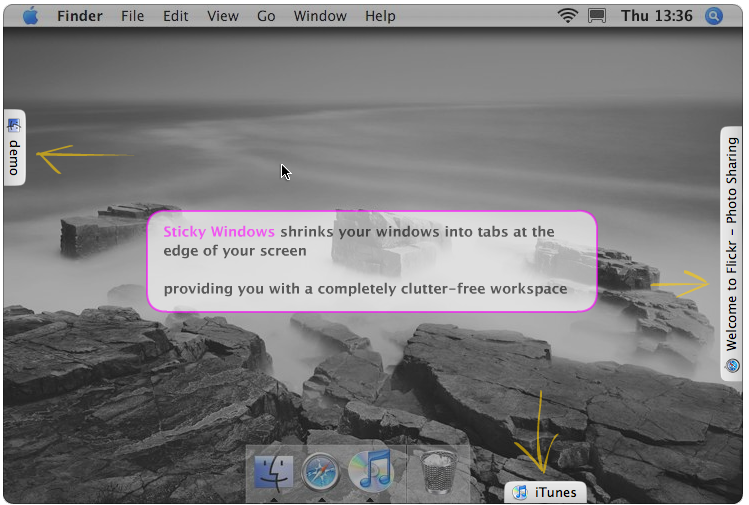 Even with these five applications, keeping my desktop uncluttered is still a daily challenge. So what programs or strategies do you use to solve this problem?