Democracy Player: Internet TV
Democracy Player is possibly the most complete Internet TV offering on the market today. It's podcasting, BitTorrent, and YouTube all bundled into one, and serves as a library for all your videos, too. And since it's open source, it's not restricted to a single operating system or processor architecture (think Joost + Intel). Democracy Player is developed by the Participatory Culture Foundation and distributed freely over the Internet. It was released first for the Mac, and then for other platforms. And though it runs well on Windows and Linux, it resembles the iTunes interface and is distinctly Mac-like.
What one might wonder is why one needs a separate video downloader and library application when iTunes already does so much? There are a number of reasons. iTunes cannot subscribe to BitTorrent RSS feeds or download torrents, and is limited to just a couple of video formats, whereas Democracy Player has the popular VLC media player built into it and is able to playback a large number of video formats. But what's really unique is Democracy Player's ability to search a number of video sharing sites like YouTube, DailyMotion, and Google Video and download videos to your library.
Democracy Player is not only one of the most well-designed open source applications I've ever used, it's also one of the best looking Mac apps, and that's saying a lot in today's world of flashy smoke effects and stylish interfaces. (Read my review of Disco 1.0.) Right from the DMG window to the icon, unified interface, and iTunes-like inset player controls, it's clear how much time and effort went into making Democracy Player look great.
Most iTunes users outside the U.S. are deprived of all video content from the iTunes Store, other than video podcasts. I say most, because some people who have U.S. addresses or friends in the U.S. with iTunes accounts still get to make the most of the store. Those that aren't so fortunate resort to other means to get their hands on the latest episode of Lost or Battlestar Galactica. In a word, BitTorrent. Yes, we all know it's illegal to download TV shows and movies without paying for them, but people still do it. Democracy Player streamlines the process of downloading TV shows over BitTorrent. All you need to do is paste a BitTorrent RSS feed of your favourite show into Democracy Player and it will not only let you know when a new episode is out, it will also automatically download it, should you wish. You can also just drag a torrent file to the player window and it will start downloading. Democracy Player is a bit like TiVo in that it lets you auto-expire videos, so you don't fill up your hard disk with old podcast and TV show episodes.
When it comes to using Democracy Player to search for and download videos from YouTube, you get the feeling that something fishy is afoot. A lot of the copyrighted content on YouTube does not show up in Democracy Player. I did a search for "Scatman John" (I grew up in the 90s, you see) and I only got a single accurate result, whereas on YouTube.com the first 7-8 videos are all Scatman John dance numbers. When I repeated the search I got 3 matching videos. Odd. It works, but needs to be improved.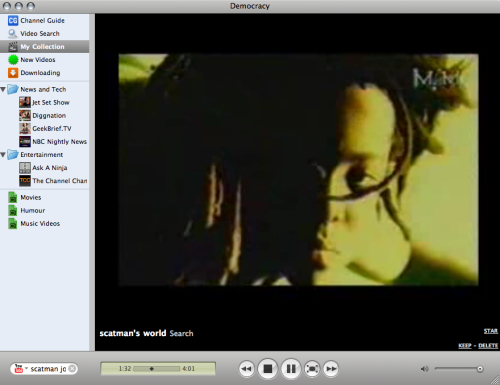 As I mentioned earlier, Democracy Player can also subscribe to traditional (non-BitTorrent) video podcasts. If you don't know of any good video podcasts or Internet shows, Democracy Player has a Channel Guide that is very similar to the iTunes Store, except here, everything's free! And legally, too, since podcasts are free by nature, and often licensed under Creative Commons. The Channel Guide is like your good old TV guide, but instead of TV shows, it's filled with video podcasts.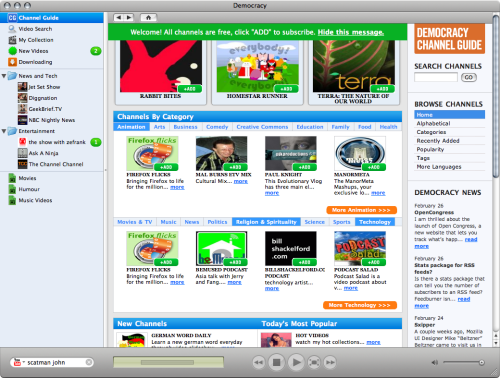 As a video library, Democracy Player is fantastic. Thanks to the VLC integration, it can playback almost any video format you throw at it. So it's assured that most, if not all, of your videos will be detected and imported without any hassle. All of mine were. It's really quite nice to have all your favourite YouTube videos, imported DVDs, and video podcasts in one place. Importing videos into iTunes is a pain, to the say the least. And being a Last.fm user, I always get irritated when I see the names of video podcasts that I have watched show up on my Last.fm profile. If you didn't already know, Last.fm records the names of all the songs you listen to and generates music recommendations based on them. Having TV show names added to your profile is definitely not a good thing.
A couple of other things about Democracy Player need to be rethought, like the folder icons. They strongly resemble the K desktop environment (KDE) folder icons. KDE is a popular graphical user interface for Linux, Unix, and recently, even OS X. Another thing that has been troubling me are the significantly slower BitTorrent download speeds. When I use a standalone client like Transmission, my download speeds are at least 3-5 times faster than the speeds I get in Democracy Player. A major drawback is that, unlike iTunes, Democracy Player cannot sync your videos to 5th generation iPods. If it could sync with an array of portable media devices like the PSP, mobile phones, and the Zune (gasp!), it would suddenly become an essential app for every Mac, Linux, and Windows user.
Democracy Player is a great idea, but still a little shaky in implementation. The YouTube searching and BitTorrent download speeds could definitely use some improvement. Aesthetically, it's excellent, and other than the KDE-like folder icons, it's very well integrated into OS X, which is not too common with cross-platform open source apps. Overall, it's a great combination of a media player, library, podcasting client, and TV torrent tool. The latest release is more stable than ever, and seems snappier, too.
I give Democracy Player 8/10.