Combining the iPad and the MacBook Air Into One: Possible?
I'm sitting in Border's bookstore writing this article on my MacBook Air. For months, I avoided purchasing a new laptop because I wanted to see how far I could get using my iPad as a laptop device. Well, needless to say, I barely got out of town. And here's why.

I mainly write on my desktop computer, but occasionally I like to get out of my office and write in a different environment. Though I use my iPad everyday for reading and consuming other media, the iPad as you might expect doesn't hold up as a lap-top replacement.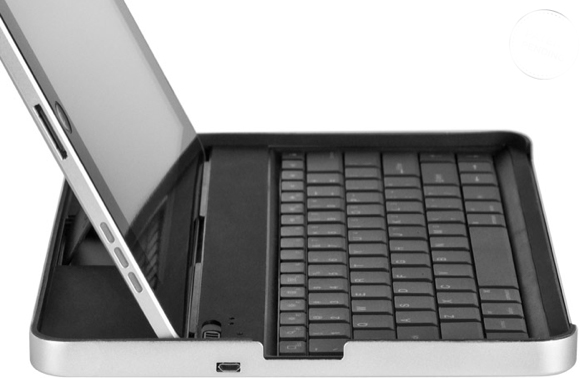 You may have seen numerous iPad cases that include an attached keyboard. I haven't purchased one, but my hands-on experience with a few proved yet again that iPad was simply not made for laptop work. Sure, in a pinch, typing emails, forum messages and short blog posts can easily be handled by the mobile tablet, but for doing extensive writing and similar projects, the difference between the iOS and OS X is huge in many ways.

I thought I'd get more mileage out the iPad as a laptop when the iOS multitasking features were finally put into the device. But app switching is not the same thing as being able to have two more applications running side-by-side or several running in the background. Even the missing Finder of the iOS slows down computing productivity.
Yet many people want the iPad to be a small notebook, and here's how it could be: Apple could build a tablet that runs both the iOS and OS X system. When users want to run OS X or XI, they attach the tablet to a keyboard designed for Mac computing. When the device is detached, users can switch over to the iOS system and regain all its tactile and iOS features.
When I hold my iPad up against the screen of my MacBook Air, there's only like a 2 inch difference in the screen sizes. If rumors are correct, the iPad could eventually be almost as thin as the screen/lid of the MacBook Air. So can't you imagine Steve Jobs taking the stage in a rm cnncmar or two and showing how Apple has combined the Air and the iPad into one seamless device? That's right, introducing the new "iPad Air," for how you want to compute.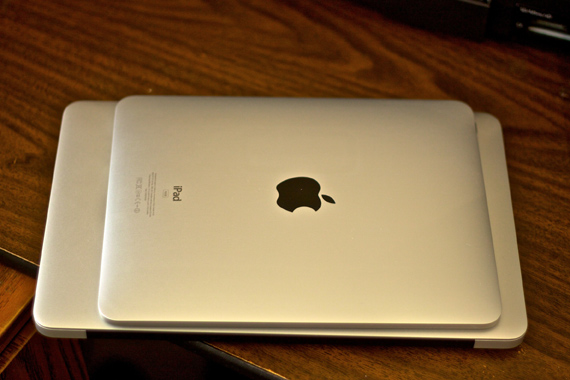 You have to know it's coming. Why shouldn't it? In introducing the MacBook Air late last year, Jobs and his cohorts spoke of how the world's smallest computer was built off what they had learned from building the iPad. But what they couldn't do is make the MacBook Air replace the iPad, nor the iPad replace the MacBook Air.

In terms of profit, Apple probably gets more mileage out of selling both devices, but we consumers want fewer devices, not more.
Sure, a combined MacBook Air and iPad may end up being a little bigger than the MacBook Air model, but it would mean not having to carry around two devices that do almost the same thing, but yet have unique purposes.

As thin as the MacBook Air is, I can't let go of my iPad—simply because I find it the best tool for consuming media—I can't navigate websites, read e-books, watch videos, or even make handwritten notes on the MacBook Air like I can on the iPad.

But by the same token, I can't use the iPad to produce content in the same way that I do with the MacBook Air or any other computer. Developers, including Apple, have produced apps to help iPad users produce content on the iPad. There's Apple's iWork suite for the iPad, and there's scores of other writing apps and notebooks for the device, but the built-in keyboard is too difficult to use for long-term writing, and the lack of a desktop on the iPad makes it even harder to access information as you write. On top of that, there's missing features like a clipboard manager, folder hierarchies, selective screen capturing, a universal menu bar that make it nearly impossible to use the iPad as a serious writing or business computer.

We already know that the MacBook Air will not replace the iPad, or visa versa, but the million dollar question is: can they be combined and still retain their distinctive purposes?