Books Manages Books Best
Managing collections is a popular use for computers. Books, videos/DVDs, recipes, stamps, people (genealogy), music, photos, wine, and so on can all be managed on your computer using either collection-specific software, a generic application, or even with just a spreadsheet.
On OS X there are some beautifully designed collection-management applications, the most famous of all is the visually stunning Delicious Library, which manages books, movies, music and games.
In the management of book collections specifically, there are three or four applications to choose from on OS X. Books is quite possibly the best of them. Considering it's open source and free, it is quite compelling.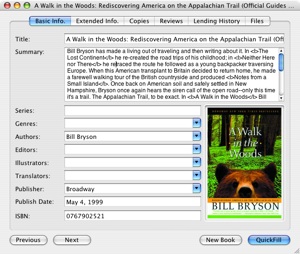 Before I get into Books, some folks may be wondering why you'd use a book manager. Besides the obsessive reason of cataloging for cataloging's sake, other reasons you might catalog your books are:
- Gain more information about books you own
- To help keep track of who you've lent your books to
- To record personal information about books, such as when you read them, or how you rated them
- To manage a small library of books for your workplace or club
Books in action
As the screenshot accompanying this article shows, Books main screen follows a familiar design as seen in iTunes, Mail, iPhoto, NetNewsWire and many other applications. This makes using Books more intuitive for novices.
Books is very easy to use. Simply:
- Create a new book
– Type in the title or an ISBN
– Hit QuickFill to search online (By default Books searches Amazon US but if no matches are found several other sites (such as The Library of Congress or Amazon UK, Japan and Germany) can be searched.
- From the results list select the matching book and click Save.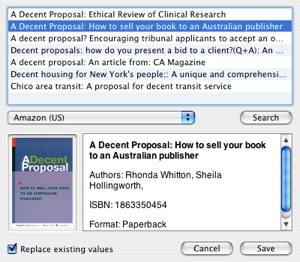 Done. Takes less than a minute.
If no results are found, you can of course enter information manually. Books uses the same sources as Delicious Library and I've found that over 90% of books are listed.
Some will suggest that Delicious Library's barcode scanning is a superior way to look up books but from my experience with it, I'm not convinced.
Once you've got your book in, you can manage other information relating to it including:
– Number of copies, their location, owner, date acquired etc
– Reviews. Either your own or others'. Includes fields to enter a rating, date started and date finished
– Lending history (this automatically access your Address Book but any other name can be entered too)
– Files. These can be an files you like that you wish to link to a book. For example, a book review you've written for school in Word.
Cool Features
Books has some nice features worth noting:
– Smart lists. These work just the same as Smart Albums in iPhoto, or any other smart filters in other applications. Thus you could create a smart list to filter books by a specific owner, genre, location, etc.
– Multiple lists (collections). You can create as many lists as you like. Therefore with the one application, you might manage a list for each member of your household, or have al list of books you own and another for books you've borrowed.
– Spotlight integration. Books integrates with Spotlight and has useful features for updating the index manually or purging the Books Spotlight index
– Plugin manager. Plugins allow you to extended the Import, Export and QuickFill functions and are all managed through a plugin manager. I added the PDF exporter and the National Library of Australia quickfill plugin.
Shortcomings
Even a great program has some shortcomings. Books has a few such as:
- You can't edit data in the main view's columns. This would be especially useful for entering ratings and dates finished.
- Genres don't autofill. Try as I might, no book I entered in Books pulled the genre information over from the lookup source. (Delicious Library did do it, so the information is available)
- No author QuickFill search
Overall
This review is of version 3.0b2 which, as the "b" suggests, is a beta version. Despite that, I didn't encounter any noticeable problems (unless that genre fill issues is a beta bug).
Books does everything you'd expect of a book collection manager and more and – considering the price ($0.00) - Books leaves all other book management applications (even Delicious Library) gathering dust. 9/10