My 10 Current Favorite iPhone Apps
Back in September, I did my first round-up of native iPhone applications that had caught my fancy. Since then, I've removed a lot of them, kept some and found a dozen others that make the iPhone worth a lot more than Apple originally intended.
Before I get to my list, though, here are a few points:
Installing these on your iPhore requires some hackage (instructions).
These are not official. These do not use the official Apple SDK and may or may not be available through the iTunes app store in the future.
Having said that, these are the true pioneers of iPhone-land and the developers that showed millions of users around the world what was possible before Apple dared to admit it.
In general, there are hundreds of native applications available for the iPhone, once you have it 'jailbroken'. Many are buggy, some are purely proof-of-concept but the ones that get it right double the iPhone's worth. These are applications that break out of the old desktop paradigm, break out of the old mouse/keyboard paradigm and embrace a multi-touch, tilt-and-turn, finger-scrolling, limited screen-space, limited attention-span paradigm that is the iPhone.
Since my last round-up, 7 months ago, there are a few that I have given up on. VNSea was a cool VNC app, but not useful to me. I don't find the need to control my computer remotely. I just use Notes instead of MobileMoney (before I transfer the notes to GnuCash on my Mac). And I can't get the hang of IM on the iPhone, though it would seem like a good fit.
VoiceNotes is still a winner, as is weDict (dictionary, encyclopedia, so much more)
. And it's hard to imagine the iPhone without the BSD Subsystem and SSH.
Here are my new favorites for my iPhone:
PocketGuitar
PocketGuitar is just plain coolness. It lets you place your fingers along 'frets' as if you were playing chords. Essentially, it's an air guitar with sound- which is the best kind.
MobileCast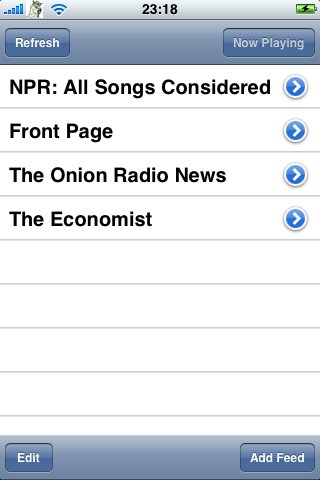 MobileCast is a podcast client that lets your favorite podcasts directly over WiFi or Edge (instead of having to download them to iTunes and sync). This is especially useful to get new content on your iPhone while traveling without having to synchronize with your iTunes.
ScreenShot
As the name suggests, it lets you take screenshots of your iPhone screen, which is useful when writing articles. Like this one
TapTapRevolution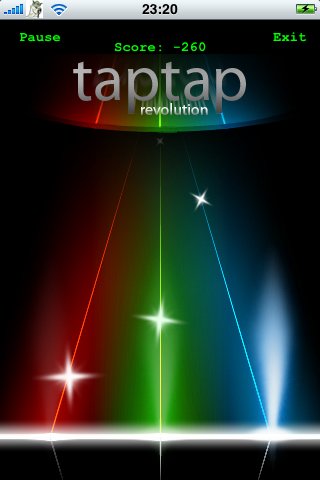 The most pointless bit of fun on the iPhone (after the Lightsaber app, of course) is TTR. You know Dance-Dance Revolution, where you tap your feet to the music. Well, doesn't tapping your finger in beat to your own music sound like fun? It is.
Sketches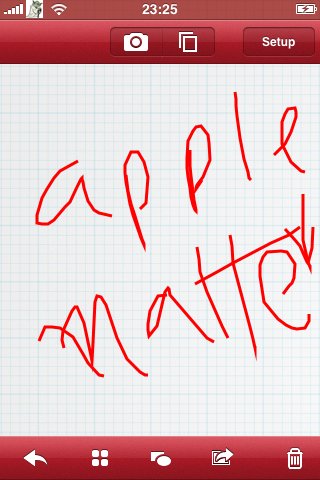 You remember how much fun Etch-a-Sketches were? Well, the iPhone was born to be an etch-a-sketch. With the Sketches app you can draw, in colors, shapes and doodles. And the best part is, shake to erase.
Books
As the name suggests, it keeps a library of eBooks you download. I have Cory Doctorow, Lawrence Lessig and the Bhagvad Gita in mine- how about you?
ContraSense
This game makes the best use of the iPhone features. It has a car that drives in oncoming traffic. Tilt the iPhone forwards to go faster, tilt left to go left, right to go right and back to slow down. Just don't crash in to the cars in your way.
FiveDice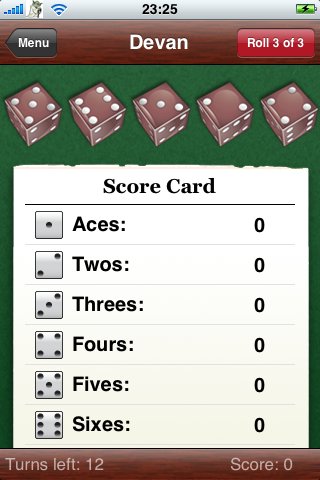 This is Yahtzee for the iPhone. This is what my iPhone has become. A $300 Yahtzee playing device. Can't... stop... rolling... those dice...
Search
This app provides an excellent interface for searching through your contacts or your calendar.
iFlix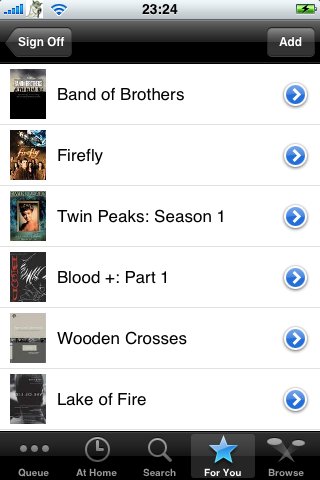 iFlix is an excellent application that helps you manage your Netflix account. You can manage your queue, search movies, look through Netflix recommendations and check which movies you have at home.