6 Great Bags for Your iBook or Powerbook
Whether you are a commuter, a hiker, or a world-traveler, owning an iBook or Powerbook means owning a bag. I have tried out over 10 bags optimized for Apple Powerbooks. The following 6 bags are the best of the bunch.
Action II Backpack XL
$49.99
Pacific Design
http://www.pacificdesign.com/pac_act2back.html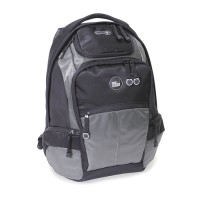 This bag is small enough to carry around crowded subway stations and china shops and stylish enough to take into a club or coffee house. There was room for all items and the bag distributed the weight evenly on my shoulders. The straps were incredibly comfortable and the additional lumbar padding was an added bonus on my back. I used the top compartment to store my iPod but failed to find a reason to use the top holes to poke out the earphone cord. Great idea, but for my purposes not too practical. This is a solid bag but for the price this is a great buy.
STM Sports Backpack
$74.95
STM
http://www.stmbags.com.au/sports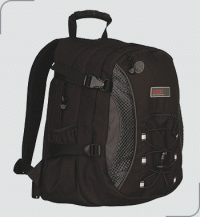 The Sports Backpack from STM is a decent sized backpack with ultimate protection for your laptop. This bag fit everything easily. The most interesting part of this bag is what STM calls the Trieste™ suspension cell. I felt that this bag offered the best protection to my Powerbook out of all that I tested. The mesh compartment on the outside gave me more options for wet or dirty clothes and is an added bonus feature. Again, I saw no use for the headphone sound port. Maybe it's just me and my listening habits. This bag is well made and looks good on your back empty or packed full of stuff. A sporty bag with plenty of versatility.
Detour 2.0
$100
Timbuk2
http://www.timbuk2.com/tb2/retail/catalog.htm?categoryId=0&skusetId=31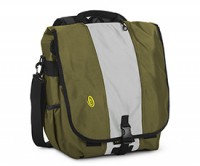 The Detour 2.0 delivers another well-built and versatile bag to the Timbuk2 product line. Made of Ballistic nylon, this bag can be carried as a shoulder messenger style bag as well as a backpack. Although more comfortable, admittedly the horizontal orientation of the bag made the backpack option seem a tad awkward. I like the side pockets that I used for an umbrella on one side and a water bottle on the other. If you like Timbuk2, this will not disappoint. If you are not a fan of Timbuk2, this will not change your opinion.
Smart Alec DayPack
$110
Tom Bihn
http://www.tombihn.com/page/001/PROD/100/TB0103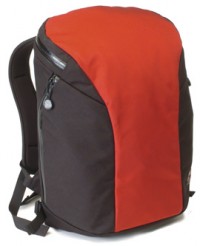 This bag seemed more appropriate for work on the beach than in an office. And with it's water repellant finish both inside and out, you could be "working" oceanside rather than in your drab cubeland. It's "stealth styling" gives it a really nice minimal look (at least compared with the buckle and strap heavy bags in this review) while still offering all the compartments and pockets on the inside that you need. Coupled with one of 3 laptop sleeves, the Smart Alec will contain your laptop securely while leaving room for all your other necessities like other work stuff (or suntan lotion). The straps are comfortable and the vibrancy of the color is shocking. (but in a good way) . The Smart Alec is a great bag all around.
Duma Laptop Bag
$120.00
Chrome
http://www.chromebags.com/duma.php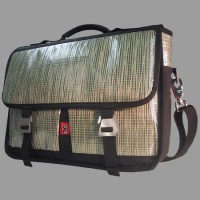 In terms of looks, this is my favorite bag that I tried out. But the Chrome Duma is not just about urban chic, with ginormous pockets, a huge interior and a secure laptop compartment, this bag protects and holds as well as it impresses. But this bag is not for everyone. Its carbon fiber construction means it is very durable but it also means it is the same thickness whether your bag is full or not. And in this case, that thickness is 5"—way too big for some people's taste. But size is a matter of preference. Comfort is not. The big disappointment with this bag is its uncomfortable shoulder strap. After a few days, I put on a different strap that was padded onto this baby. But despite where the Duma falls short, I continue to use this bag. I have received more comments regarding this particular bag than any of the other ones tested. Well worth the money if you are looking to make a statement and carry your laptop at the same time.
Volt XL
$160
Spire
http://www.spireusa.com/products/VX4.html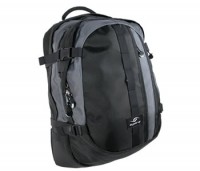 The Volt XL from Spire is the most expensive bag that I tested. This bag is also worth every penny. I had the opportunity to bring this one with me during a recent trip to Disney World with my wife and kids. This bag did nothing but impress me. Its padded shoulder straps made it very comfortable to lug around diapers and jars of baby food not to mention all the souvenirs. And when I returned home, this bag did just as well on my back getting to work. My Powerbook fit snug and secure using the Spire Boot and velcroing into the bag interior. There are more pockets than I knew what to do with but the beauty of this design was unused pockets did not bulk up the pack. A well-designed bag at a competitive price if you have a need for a bag that carries small and large loads.