Disco 1.0, Simple Disc Burning With Style
Disco, the name says it all. It's a disc burning app with style. Greatly hyped all over the Internet, sold while still in beta, and included in the MacHeist bundle, Disco has really shown developers everywhere how a Mac app should be marketed. Marketing it wouldn't be possible if the app itself wasn't impressive. From creating a dazzling smoke effect as it burns discs to utilizing transparency and animation, Disco's flash just never seems to end.
As you probably know, Mac OS X has some disc burning functionality built in. The question is, is it good enough? What does Disco have, other than smoke effects, that OS X doesn't already? For starters, multi-session burning is easier with Disco than it is with Disk Utility, the bundled OS X utility that allows you to burn multi-session discs by utilizing its ability to create disk images. The second important feature that Disco has, that OS X doesn't, is disc cataloguing. The appropriately named "Discography" is a list of every disc you've burned, with details on each file and the date and time of each burn. So, if you want to go back and see what was on that music CD you burned for your friend, you can. Lastly, if you have a bunch of files or folders that's too large to fit on a single CD/DVD, Disco will ask you if you want to "span" them across multiple discs, just like iTunes does when a playlist you're burning has more songs than the type of disc you're trying to burn (audio/mp3/data) can handle.
Disco's competitor on the other end is Toast Titanium. Disco was criticized for being just a lot of eye candy, and not a real competitor to Toast Titanium, as it claimed to be. During the first public beta, the tagline on the Disco site read, "We're eating toast for breakfast." What it lacked was some more advanced features that only Toast could boast of on the Mac. Mac OS X does too little, but does Toast do too much? I recently installed it on my Mac, and honestly, it did seem like a little too much for my needs. Don't get me wrong, Toast is an excellent application that does a lot, if not everything. It burns audio, video, pictures, and disk images in every format known to man (I'm kidding, but this might very well be true); it's completely integrated with iLife, burns Blu-Ray discs, has TiVoToGo support, EyeTV support, integrated file browsing, Spotlight search, and even rips videos in a number of device-specific formats, including iPod, PSP, and for mobile phones. Toast is clearly worth the $100 price tag, but do I want to launch a relatively heavy multiple-window application with a floating media browser when I'm in the middle of something and friend a drops by and asks me to burn a music album for him? No! I'd rather launch Disco, or another lightweight application like Burn.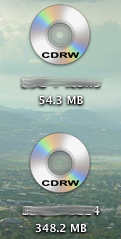 I've been beta testing Disco for a while now, and I'm pretty satisfied with it for basic tasks like burning data to discs. Sadly, Disco's multi-session burning capabilities still need some work. It isn't as streamlined as BurnAgain DVD, for example. (My review of BurnAgain DVD). To test Disco's multi-session capabilities, I used it to burn a video, and then a folder of images to the disc. In the end, what I got was two seperate CDs! No, Disco didn't slice my CD in half, but it burned the files in such a way that OS X now sees the two sessions as two discs, instead of one. When I asked the developer about this, he said it's completely normal. The only drawback seems to be that the mutli-session discs that Disco creates are only accessible under Mac OS X. My Ubuntu PC only sees the files from the last session, ie., the folder of images.
Another drawback of Disco is that copying video DVDs isn't very easy, and creating your own video DVDs, something which I currently use Apple's iDVD for, isn't possible at all. To copy a video DVD, you need to copy the "VIDEO_TS" and "AUDIO_TS" folders off the disc, and then drop them on Disco. Disco will automatically format the disc so that it's playable in any standalone DVD player. Unfortunately, DVDs that are copy protected, which is almost every mainstream movie DVD, are not supported by Disco. Another problem is, most of the time people (including myself) want to burn video files we've downloaded so that we can watch them on our big screen TVs, which are hooked up to DVD players. At this time, Disco can't create video DVDs.
So, what's new in Disco 1.0? First and foremost, performance and stability have been greatly improved. The app has been thoroughly tested by thousands of eager users who downloaded it over the last few months. That includes everyone who got a Disco license with the MacHeist bundle. And though the concept of selling beta software has angered some people, who claim that "'beta' is not an excuse", most have welcomed it. It's worth noting that Disco was never really unstable to an extent that it became unusable. Maybe it shouldn't have been released while it was still in beta, but Web 2.0 has really proven that users don't mind beta software, as long as it works.
I asked Austin Sarner, the developer of Disco, what exactly had been added in the first non-beta release of Disco. He said, "We've introduced full smoke support on almost any Mac, rewritten Discography database engine, brand new naming functionality, and over 30 other improvements and fixes." So, if you were expecting some major new features to be added, you might just be let down. There have been a number of subtle improvements to the UI and functionality of the app, but nothing that jumps out at you. For example, Disco's Discography cataloguing of discs you've burned has been completely rewritten and now includes audio discs. Another neat little feature makes sure you won't accidentally burn an untitled disc by mistake. If you forget to add a title to the disc, Disco will automatically add the date to the title. You can now also make Disco warn you when you're about to burn an untitled disc.
I decided to take Disco for a spin and burn a regular audio CD of the latest Infected Mushroom EP, Becoming Insane, for me to play on my home stereo. Doing this was as easy as dragging the audio files from my Music folder to the Disco window, setting the format to audio disc, and hitting burn. Two thumbs up for simplicity and ease of use.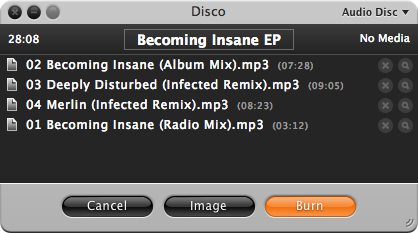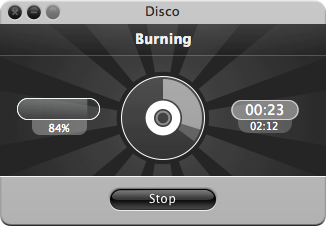 Disco still has some issues, and lacks some of the more advanced features Toast has, but what makes it such an appealing application to own is that it's lightweight, beautiful, and "just works." I can see why professionals might prefer Toast over Disco, but for the average Mac user Disco really does seem to be the perfect choice. Just like AppZapper, Austin Sarner's other application, Disco does what it's built to do, and does it with style. It's no wonder it got a full five stars and the Editor's Choice award from Macworld.
I give Disco a 7/10.